ULTRACUSHION ANTISTATIC MATTING
Anti Static Mat Reduces Mechanical Shock. Slow, thorough charge decay for a controlled static discharge.
FREE SHIPPING on this ESD Matting going to our Clients in the Continental U.S.A. AND Canada! Details Apply

Economical and Easy to keep clean

Available up to 52 inches wide!

LOW static generation, controlled static decay

1/4 inch thick, cushions delicate products

Perfect for non critical esd control areas
A Full 1/4" Thick! Cushions sensitive products! Anti Static AND Mechanical Shock Protection in One. High static dissipative range of <1.0E10 and >1.0E07 for a slow and controlled electrostatic decay rate of 1,000 to 100 volts in 3.4 seconds. Clean surface featuring NO carbon sloughing. Perfect for non critical ESD control table tops, static control for printers, packaging areas and more. Excellent antistatic protection when working with high voltage power supplies (reduces electrical shock hazards) Perfect for a multitude of uses!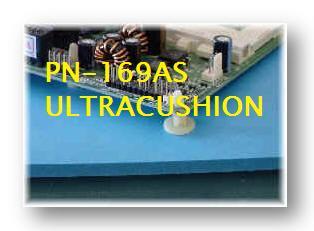 UltraCushion table top matting features a wear resistant antistatic top layer bonded to a static dissipative foam bottom layer. The top wear layer is designed for durability and ease of cleaning while the thick cushiony bottom layer provides excellent mechanical shock protection. UltraCushion forms well to bench tops and provides outstanding longevity even in the harshest of environments.
UltraCushion's electrical resistivity falls in the high static dissipative range. While we don't recommend this material for use with our constant monitors or for use in sophisticated Electrostatic Protected Areas it can be a perfect choice for an economical low static generation material in packaging areas or when working with high voltage power supplies. Should a higher conductivity material be required for critical esd audit scenarios consider a 3 layer esd mat like our 167 or 168AS. UltraCushion features low static charge generation and meets older JEDEC EIA-625 table 2 of >1.0E05 and < 1.0E10 RTG.
PHYSICAL PROPERTIES:
THICKNESS: .250 (1/4 of an inch)
COLORS: Sky Blue
AVAILABILITY: 18, 24, 30 & 50 inch widths.
Precut Pads, Custom Cuts and up to 40' lengths.
ELECTRICAL PROPERTIES:
PTP PER ESD 4.1, 2006 >1.0E06 <1.0E010
RTG PER ESD 4.1, 2006: >1.0E06 <1.0E010
TYPICAL PTP @ 40%rH, 100VDC, 71 Deg F: 4.30E09
TYPICAL RTG @ 40%rH, 100VDC, 71 Deg F.: 6.86E09
PART NUMBER:
169-AS
Extra Thick Anti-Static Matting
Part Number: 169-AS
Delivered Roll Pricing:

1 case of 18" x 23" precut pads,

$319.62

(16 to a case)

Delivered Pricing! Continental USA and Canada!*

Click here to purchase, use the drop down to select your size

2' x 40'

$403.06

52 inch x 40'

$876.06

Pre Cut Pricing: Note - We have many more precut sizes available on our cart.

2' x 2'

$36.00

Delivered Pricing! Continental USA and Canada!* Many more lengths available! Need another length not shown? Simply call us for pricing and to place your order.

Click here to purchase, use the drop down to select your size

2' x 6'

$88.00

2' x 8'

$114.00

30 inch x 4'

$74.00

30 inch x 6'

$107.50

30 inch x 8'

$130.00

50 inch x 4'

$118.00

50 inch x 6'

$162.60

50 inch x 8'

$216.00

50 inch x 10'
$270.00
Sales Reps:
Old School Price Calculator
*Terms and Conditions of Free Shipping Program
Tame the Static Beast BEFORE it Takes Another Byte ®
© All rights Reserved
*
ASSOCIATED Items
To order 169-AS along with the following accessories using our new shopping cart please click here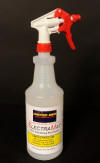 ESD Mat Cleaner - Leaves Zero Insulative residues! Keeps table top and floor matting supple and helps rejuvenate the ESD mat's conductivity. Environmentally friendly, economical and Made in the USA! Available in quarts, cases, gallons and 5's! 1 quart WITH trigger sprayer, $8.22

---

Common Point Bench Mat Ground Cord - Our 113 AS snaps on a male 3/8 ground lug and has 2 inputs for wrist straps. It's important to have your mat and wrist straps grounded to the same location and this robust common point takes care of business. Includes universal mat snap kit and installs with just a screw driver!

$8.97 each (even less with quantity discounts).

---


Universal mat snap kit - 3/8" - designed to fit nearly every thickness of esd bench top and floor mat. Tough, robust and fully compliant. Available in Bag O' Tens Kits, only $11.00

---


Push and Cinch Male - 3/8" - The ultimate in a secure ground connection. Pierces all layers for ultimate conductivity. Excellent for use with constant monitors, robust and fully compliant. Bag O' Tens, $6.20 per bag

---


Push and Cinch Female - 3/8" - The ultimate in a secure ground connection. Pierces all layers for ultimate conductivity. Excellent for use with constant monitors, robust and fully compliant. Bag O' Tens, $6.20 per bag

---