United Static Control Products
Who we are, What we do and Where we come from!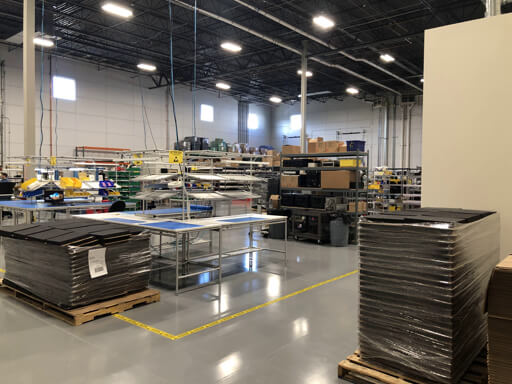 United specializes in ESD Flooring (supply and installation), essential static control products and static control expertise. Our sales offices are located in Colorado and Florida. Our NEW Corporate Address and Warehouse is located in Bradenton Florida. The Manufacturing, Engineering, Recalibration Services and our smaller warehouse is located in Colorado City, Colorado.
No Matter WHERE You're Located We Have You Covered!
United got its start in the late 80's helping develop a unique resistor free static control wick for Aircraft. Our first US and Worldwide patents were for static control products for Televisions and Computers in 1992. We released our first video on static control about 1993, started this web site (a year or two before Google's) and began manufacturing our unique ClearView for Televisions and "the UltraStat" for Computers.
This was when we learned the hard way about the need for ESD control in the manufacturing environment. Our electronic manufacturing experience led us to a better understanding of the true cost of ESD and gave us first hand experience in setting up a successful ESD program. At the time, we didn't sell products for controlling electrostatics in manufacturing environments.
In fact, we often had a hard time finding quality products (at a reasonable price) for OUR electronic manufacturing needs. Wrist straps were available but locating quality conductive flooring and manufacturers that knew the nuances required for installing the ESD floors were limited. Our first static control flooring material was manufactured by a Swiss Company called Datwyler. Resilient, flexible, tough and highly conductive. We found that it worked great for our flooring needs and could also be converted into matting for our table top use.
We had no intention of ever getting into the supply of ESD control for other manufacturers yet one day, it just happened. Our lead engineer received a call from a Company we had never heard of by the name of AmeriData. AmeriData's engineer said he knew nothing about static control and had a big "ESD audit" coming up. He asked if we could help and we did. We sent samples of our flooring / matting to him overnight (on a Thursday). He got back with us the next morning with matting sizes and colors, we cut the mats on a Friday night and drove the mats from Colorado to St Louis on a Saturday. We installed the mats on a Sunday and he passed his audit on a Monday.
This same great tradition of service and support lives on to this day at United SCP.
Stephen Cooter: As a side note I remember how excited we were to see the cover of Newsweek about a month later. AmeriData - America's fastest growing business! Shortly after this article AmeriData was acquired by GE Capital (about 1996). GE Capital heard about our services from the engineers at AmeriData and we installed our first ESD flooring for them in Alpharetta Georgia early in 1997.
We learned the hard way - Give us a call and save yourself the headaches!
Click to Contact United Static Control Products Inc
© 1996-2023 All rights Reserved
*