ESD Floor Mat for Static Control
ANSI / ESD S20.20 Compliant, 20 Year Warranty
Exceptional Static Conductance and Made in the USA!
ElectraDyne Titanium Series ESD floor mats are a long term solution for controlling electrostatics while meeting THE latest most stringent standards for static control Worldwide. They are recommended for use over thin pile (glued down) carpeting or ANY hard surface flooring material.
These mats are chair caster friendly, warranted for 20 years (details apply) and constructed from a 3mm thick dual layer vinyl with an abrasion resistance top surface and a full surface electrically conductive backing. ElectraDyne ESD Chair Mats feature the utmost in static conductance. They are manufactured and tested for conformance in Colorado, only from United SCP!
EDT-1: ESD Chair Mat, Precut Structures, ANY size!
ElectraDyne EDT-1 MODULAR Pre Configured ESD floor Mat Structures. Manufactured to ANY Square or Rectangular Size.
EDT-1 ESD chair mats may be manufactured to ANY rectangular or square size. They are made from a 3 mm thick interlocking modular tile that features a full surface static conductive backing covered with a topical wear surface that is nearly indestructible.
We manufacture the structure at our Colorado facility by laying out your design and trimming off the interlocking outside teeth. We pre-punch convenient ground points and supply the structure with a floor mat ground cord.
The structure is tested to the latest ANSI standards prior to us numbering the tiles, disassembling it and packaging it for shipping. EDT-1's are sold by the square foot and arrive at your location FLAT and ready to go to work.
These structures are ideal for use over ANY hard surface flooring and work well for covering office grade (thin pile) glue down carpeting. When used over carpet, the structures support chair caster and foot traffic and lighter weight rolling loads (e.g. ESD carts). When used over hard surface flooring they support ALL types of traffic including forklifts and pallet jacks.
Protect your ESD flooring investment - Perfect for covering ESD paint and virtually ANY type of ESD flooring (ground thru the backing - no ground cord required).
Flawless combination resistance properties

Easily pass ESD audits. Fully compliant to the latest standards

Only 3 mm for reduced tripping hazard

Lays FLAT right out of the box

TWENTY year warranty of ESD properties

Fully Tested and Certified using in Compliance Test Instruments.

Made in the USA - ONLY from United SCP
Alternate Photo of finished mat
Maintenance: Dry dust mop at end of shift to remove ALL abrasives, metal shavings, nut, bolts etc. Remove scuff marks using the abrasive edge of a Swiffer Wet Jet pad or doodle bug and a dilute solution of ElectraClean. Damp mop with a Swiffer wet jet as needed. No ESD floor finish is required, however these structures may be coated with 2 to 3 thin coats of ElectraGlaze should a higher gloss and increased scuff mark removal be desired.
Reassembly and Installation: These structures are built on demand at our facility located in Pueblo CO. Once completed, each tiles is numbered. A reassembly diagram is included on the ESD compliance paperwork provided with the structure. Allow the tiles to acclimate for 8 hours in the area where the structure will be reassembled. Lay the structure on the substrate using the numbered order we have provided. Using a dead blow mallet (or similar) tap the teeth together. Note: Be sure to keep the head of the mallet clean.
To Ground: Attach ground cord fastener (provided with your order) to any convenient (pre-drilled) corner. Snap PN-115-AS floor mat ground cord to fastener. Attach ring terminal cord termination to the center screw of an AC faceplate cover or attach it to ground using a method selected by your ESD program coordinator. Note: One ground cord is sufficient for structures up to 100 square feet. For areas over 100 square feet contact UnitedSCP for further directives.
Compliance Verification: Each structure has been fully tested and certified to ANSI ESD S20.20-2021, TR-53 Footwear / Flooring System Compliance Verification using in compliance test equipment prior to packaging and shipping to your location.
Product Qualification: Titanium ESD Flooring has been fully tested and warranted as COMPLIANT to ANSI / ESD STM97.1 and ANSI/ESD STM97.2.
Method of operation - how do they work: Static electricity can compromise the insulative oxide layers that are an integral part of the components used in modern electronics. Even MINOR static discharges (below the threshold of human perception) can devastate electronics. Contact and separation is the major cause of static generation. This may be a person walking on the floor, a cart as it rolls across the floor or even a person's clothing contacting and separating on their skin.
It's EASY to generate a SUBSTANTIAL static charge by simply walking on a standard floor.
ElectraDyne Titanium Series Modular ESD Chair mats are manufactured with a full surface electrically conductive backing. A hard, semi conductive wear layer is heat fused to the conductive backing. Any static charge permeates through the semiconductor and into the electrically conductive backing. The electrostatic charge on the backing migrates harmlessly to electrical ground via the ground cord that is included with your order.
What may have been a static charge of >3,000 volts becomes insignificant.
Example of charge generation while walking on ElectraDyne ESD Chair Mats (per 97.2 testing):
Maximum Positive: 7.9 volts Maximum Negative: 4 volts
GOAL: <100 Volts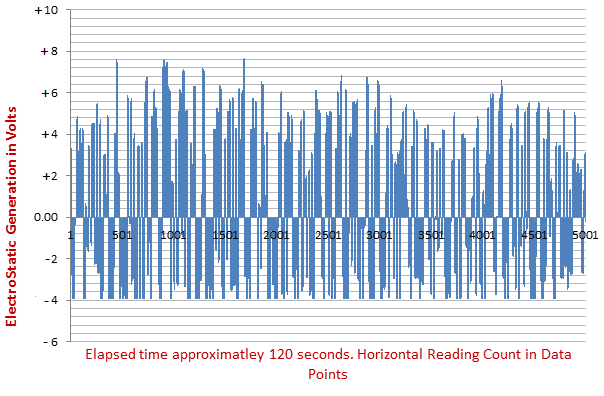 Contact United Static Control Products!
Tame the Static Beast Before it Takes another Byte!
This website is hosted only on Green Servers
© 1996 - 2023 All rights Reserved
This page last Updated on
10/27/2023