WS-1020 Premium ESD Wrist Strap
With the NEW Patented Anti-Static Ground Cord. Only from Static Solutions Inc.
Special of the Month Pricing: $5.27 each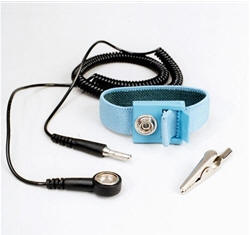 Normal activities such as getting up from a chair, contact and separation of shoes against flooring, and cloth rubbing against skin easily exceeds the 100 volt threshold set by industry for an ungrounded technician. If this errant tech makes contact with a static sensitive device the results can be VERY costly.
As such, ANSI ESD S20.20-2014 requires all seated technicians to wear a wrist straps. The WS-1020 Ohm-Stat ESD wrist strap safely dissipates these electrostatic charges with guaranteed long lasting protection and flawless performance. Static Solutions wrist straps are proudly made in the U.S.A. They are individually packaged with instructions for user convenience and may be easily cleaned with a mild detergent.
Outstanding quality.
Fast and easy deployment.
One size fits most wrists.
Patented non tribocharging cord and band.
USPTO Patent 6,426,859.
Superior conductivity.
Superior comfort and wear resistance.
Copper chemically bonded to acrylic nylon fibers.
No carbon sloughing
Non allergenic and clean room compatible.
Anti-bacterial. Perfect for medical manufacturing.
Generous 10 ft (antistatic) strap to ground cord.
Color: Blue
Unique fabric lock design prevents slippage.
Clean room compatible.
UL listed - One meg ohm current-limiting safety resistor in each cord.
Associated Products

ESD Hand Lotion: Environmental conditions reduce the static conductivity of your skin. Insure successful hand to heel strap or wrist strap electrical continuity. Wrist straps pass with ease, heel straps no longer fail! Keep those hands baby soft and baby conductive (note: no babies were harmed in our testing)! RoHS and clean room compliant. Paraben free, no colorants nor perfumes. $5.22 each or a case for 24 for just $124.99


ESD Constant Monitors: Test your wrist strap every second of the working day. Alarms if strap or contact with the user becomes compromised. Eliminates testing manually and entering results in a log.


Common Point ESD Mat Ground Cords: Ground your wrist strap and ESD matting to a common point ground for compliance to ANSI ESD S20.20-2014. We provide the reliable common point ground at the best price in the Nation $5.25 ea.


Static Solutions CT-87XX Series ESD Wrist Strap / Heel Strap Tester: ESD Wrist and Heel Straps are often the first line of defense in controlling ESD. Most programs require frequent testing of these items. The CT-87XX Series tester provides fast complete results with one press of the button. Pass / Fail results are easy to comprehend and impossible to miss. These units are NIST certified and in full conformance with US 2020, European EN as well as DIN standards and specifications. THE lowest price on the web! Now just $468.75 and Free Shipping.

Click Here to Contact UNITED Static Control Products
This website is PROTECTED under Copyright and Trademark Laws
United Static Control Products Incorporated
© All rights Reserved.
*