.
Circuit CG / Static Control Carpet Tiles
In stock, NO Minimums, 24" x 24" tiles, Quick Ship, Major ISO approved Manufacturer and Outstanding Warranty
WHY ANTI STATIC CARPET FOR STATIC CONTROL?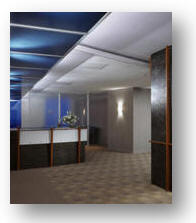 Sophisticated electronics such as computers are manufactured in an ESD (static controlled) environment for a very good reason: To insure reliable production and reduce failures in the finished products. These same manufacturers have worked diligently to shield your sensitive microelectronics from the damaging effects of electrostatics in the end user market, yet user induced static discharge continues to be a proven cause of computer related problems. Minimal static discharges (below the threshold of human perception) often cause occasional (yet annoying) glitches while more powerful discharges (> 2,500 volts) wreak havoc, causing network instability, damage to micro electronics, corrupted data and lost production. The question is not IF static can damage the integrity of your electronics but WHEN. It's just not worth the risk.
WHY CIRCUIT CG FOR ANTI STATIC CARPET?
Unlike carpet that simply keeps static generation below the level of human perception Circuit CG collects the charge and grounds it. Circuit CG meets THE latest stringent electrical conductivity standards for static elimination and is another key reason it's used by clients including the FAA and the US Military. Plus, Circuit CG's award winning high tech pattern hides wear, seams and dye lot variables. Need to replace a carpet tile 10 years after the original install? Add on to an existing install as your needs expand? With Circuit CG dye lots just aren't an issue!

Static Control PROTECTION for mission critical electronics.

Outstanding sound deadening capabilities.

Permanent electrical conductivity that is UL Approved.

Contains EPA approved anti-microbial.

Protects employees from mold, mildews and odor.

Meets THE most stringent of indoor air quality standards.

Award winning high tech pattern and texture.

EASY Install, perfect for DIY. Non directional, unique pattern hides wear and eliminates dye lot differences. Need to replace a carpet tiles 10 years from the original install? Add on to an existing install as your needs expand? With Circuit CG, dye lots aren't an issue!
OPTIMUM LEEDS CREDITS, ENVIRONMENTALLY SENSITIVE
Circuit CG meets the most stringent indoor air quality standards for emissions while the antimicrobial additives protect employees from a broad spectrum of molds, mildews and odor causing micro organisms. It's manufactured by a Company that provides a near zero carbon footprint and backs the product with outstanding LEEDS Credits. Circuit CG is Cradle to Cradle Certified and a recipient of the EPA Green Chemistry Challenge Award. It's PVC Free and it's static control backing is 40% lighter than traditional carpeting. Circuit CG eliminates the electrostatic discharges that wreak havoc with electronics. It's a fact! Circuit CG even meets the tough new ANSI/ESD S 20.20 standards, your assurance that this selection will provide THE highest level of static protection in the Industry. From Electronic manufacturing to protecting electronics in command centers, FAA control Towers and esd sensitive labs Circuit CG Tames the Static Beast Before it can Take Another Byte!
OPTIMUM INSTALLATION FLEXIBILITY, OPTIONS IN ADHESIVES!

When installed with our unique
ESDvantage
VOC Free liquid conductive releasable adhesive the carpet tiles can be easily removed and reconfigured (or replaced if they become stained or damaged). Perfect for raised access flooring too! Circuit CG carpet tiles are an excellent choice for server rooms, computer labs, hospital data centers, security and call centers as well as ALL sophisticated office environments and electronic manufacturing.
$220.00 per Carton (48 SF per carton)
1
2 ea 2' x 2' tiles per carton ($4.58 PSF).
Only $18.33 per tile! Compare to the competition at over $19.80 per tile!
Guaranteed BEST Online Pricing in the USA!

This site is protected by Copyright and Trademark laws
under US and International law. © 1993-2019 All rights Reserved