Click here to download this document as a PDF file.
CIRCUIT CG CARPET TILE
ESD Carpet Tile Specifications
24" X 24", 48 square feet to a carton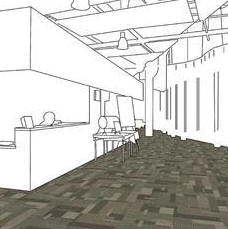 PRODUCT OVERVIEW: Circuit CG is advanced static control carpeting designed to greatly reduce the electrostatic potential that can devastate esd sensitive advanced electronics. Circuit CG meets the most stringent of indoor air quality standards for emissions while the antimicrobial additives protect employees from a broad spectrum of molds, mildews and odor causing micro organisms. Circuit CG is Cradle to Cradle Certified and a recipient of the EPA Green Chemistry Challenge Award. It's PVC Free and it's static control backing is 40% lighter but much more robust than traditional carpet tiles.

Circuit CG may be installed in a Monolithic, Quarter turn or Ashlar pattern. It's pattern is designed to hide wear and dirt. Circuit CG is normally installed with our C2k4 adhesive but may also be installed using our URAS Conductive Peel and stick "tape." Electrical grounding is fast, easy and reliable and grounding hardware is included at no charge with each order.

APPLICATIONS: Computer File Server Areas, Labs, Bank Data and 911 Command Centers, Networked Offices and more.
Construction

Multi-level Patterned Loop

Yarn Weight / Total Weight

22 oz./sq. yd. 93 oz./sq. yd.

Stitches per Inch

11 / in.

Average Density

7,009 oz./yd. 3

Pile Height

0.113 in.

Gauge

1/12

Fiber

ECO Solution Q Nylon

Tile Size

24" x 24"

Conductive Fiber

Continuous monofilament

Electrostatic Propensity

AATCC 134-06 (w/o conductive footwear) <1.0kV

Electrical Resistance

ESD S7.1/NFPA 99 Resistive / resistance characterization of materials: RTT six or more readings between points placed 3 feet apart. Tested with an applied voltage of 100V. Measured in Ohms. > 2.5E04 <1.0E09. Resistance to Ground six or more readings from surface to groundable point. Tested with an applied voltage of 100 v. Measured in ohms >2.4E04 <1.0E09.

Groundable Strips

Copper or Aluminum strips (supplied at no charge with each order

Ground Frequency

1 per 1,000 sq. / ft.

Backing System

Ecoworx ®* - 100% PVC free recyclable, made from recycled material

Adhesives

Availability

No minimums

Flammability

ASTM E-648 flooring radiant panel - Class 1 (> .45W/cm2)

ASTM E-662 NBS smoke density: <450

Monolithic, Quarter Turn or Ashlar (see installation guide for full details).

Environmental

Platinum Certification under NSF/ANSI Standard 140-2007

Cradle to Cradle Certified

Recipient of EPA Green Chemistry Challenge Award

Assessed through the McDonugh Braungart Chemistry Protocol assuring health and human safety.

PVC Free

Recycled content contributing to LEED product certification - Inquire for specific details.

40% lighter in weight than traditional carpet tile backing.

Low VOC's meet CRI Green Label and Green Label Plus requirements.

Performance and Warranty

Superior performance compared to traditional carpet tile backing.
Ltd Lifetime Commercial Warranty
8X greater Tear Strength (ASTM D624).
5X greater Tensile Strength (ASTM D3574).
2X greater Delamination Strength (ASTM 3936)

*Ecoworx® is a registered trademark of Shaw, a Berkshire Hathaway Company. The above information is accurate and current but may be subject to change without notice.