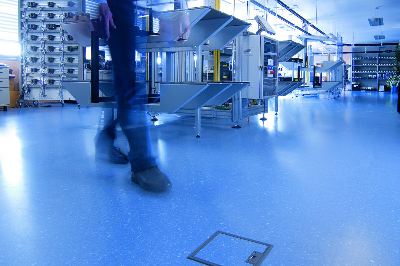 Forbo ESD floor tiles are a premier, time tested solution for the primary grounding of personnel, chairs and carts in static control environments. Unlike many ESD Tiles Forbo Colorex is available in both the static dissipative and the static conductive range of electrical resistance making it a perfect fit for a multitude of project conditions.
Whether your ESD Floor is new or 10 years old THIS is a material you can depend on. And, with Colorex you receive one of the strongest warranties in the industry backed by the outstanding reputation of Forbo Industries.
The top surface of "traditional" pressed vinyl tiles have the conductive fibers recessed below the surface of the tile, creating micro-voids that trap and accumulate dust and other insulative contaminants. Not so with Colorex! During the production process Colorex passes through a specially designed surfacing machine that grinds and polishes each tile to assure a smooth, continuous micro-finished surface, reducing contaminant and dust traps and ensuring the closest available contact of footwear with the conductive fibers.
Why Forbo Colorex is better than typical "Construction Grade" SDT Tiles
Colorex is an excellent choice for controlling ESD in clean rooms, electronic or semi-conductor manufacturing, computer rooms, repair facilities or anywhere static sensitive product is being manufactured or utilized. Forbo's resilient tightly compacted composition features permanent conductivity. Unlike many ESD Vinyl's Forbo Colorex doesn't flake break or degrade even in the harshest of environments. Colorex is clean room compliant, DOP Free and offers excellent stain resistance properties. Unlike many other ESD flooring materials Colorex doesn't depend on ambient environmental moisture to perform. Hence, Colorex has some of the most consistent electrical properties in the industry.

MEETS ANSI ESD S20.20-2021

Proven performer from an Industry leader!

Clean room compliant! Perfect for flash coving!

Resilient pure vinyl won't flake, break or degrade!

Outstanding PERMANENT electrical conductivity!

Lifetime electrical properties not dependent on humidity for conductivity!

Available in static dissipative and ESD conductive!
Forbo SD (for static dissipative) is electrically less conductive than Forbo EC (electrically conductive) yet still provides outstanding static control capabilities!
The Forbo static DISSIPATIVE variety may be preferable in areas where technicians are working with higher voltage power supplies. The addition of the electrically insulative properties provides an added safety margin should an errant technician come into contact with a high voltage power source. In addition, as less carbon is used in the static dissipative variety it may be the preferred solution for use in very stringent clean room applications.
Continental U.S.A. and Canada!
$469.97 per Carton (static dissipative)
14 ea 24.2" x 24.2" (56.94 sf) tiles per carton (only $8.25 Per Square Foot).
Compare to our Competition at $9.37 per square foot
Guaranteed BEST Delivered Online Pricing in the USA!

FORBO COLOREX RESOURCE CENTER
WHY UNITED FOR FORBO COLOREX?
United Static Control Products is a Certified Supplier of Forbo Colorex Anti Static Tile. Unlike traditional brick and mortar distributors United Specializes in Static Control Flooring and its interactions with the other components of your ESD program. In addition, since our inception in 1993 United has installed over a quarter of million square feet of Forbo Colorex. Our installers are happy to help other installers with the nuances of installing Colorex and our Engineers are pleased to answer questions pertaining to Forbo Colorex's interactions with the other components of your ESD Program.