ElectraWear Cool Comfort
Short Sleeve ESD Smock
We Challenge You to Find a Cooler ESD smock!
Cool Comfort ESD Smocks
Just in time for those HOT production schedules! ElectraWear Cool Comfort short sleeve esd smocks are manufactured from a light weight yet extremely durable synthetic / carbon composite. Outstanding panel to panel and short sleeve to short sleeve conductivity of slightly more than 1 meg ohm! Cool comfort esd smocks are designed for use with short sleeve shirts eliminating tribocharging long sleeves at the source. Our conductive collar maintains good skin to smock conductivity.
And, unlike some heavy uncomfortable cotton blend esd smocks Cool Comfort won't shed fibers and handles repeated washings with ease. In fact Cool Comfort Smocks are Warranted to maintain conductivity at 100 washings minimum (50 more than the competition).
Cool Comfort ESD smocks are designed for employees wearing short sleeve shirts. The smocks only weigh a few ounces yet provide years worth of compliant problem free conductivity and low maintenance. Eliminating the long sleeves (and the tribocharging they can generate) lowers static propensity and provides one of the lowest tribocharging esd smocks in the industry! Available in snap front closure systems and in numerous colors.
Non-linting, comfortable cool and breathable design.
Snap front closure system.
Compliant to ANSI/ESD S20.20-20
21.
ESD TR53 "garment" results you can count on!
Lapel collar, ID badge loop and 2 each side patch pockets.
Decay 0.01 sec. Light weight, durable, great fit!
4 mm male grounding stud above each bottom pocket.
Optional 10' grounding cord only $5.99 ea!
96% Polyester, 4% carbon suffused nylon filament, tightly woven cross hatch conductive fibers for ULTIMATE conductivity and clean room compliant to class 1000 and above.

AND like ALL of our ElectraWear ESD Smocks

Our long term flawless electrical performance is unparalleled!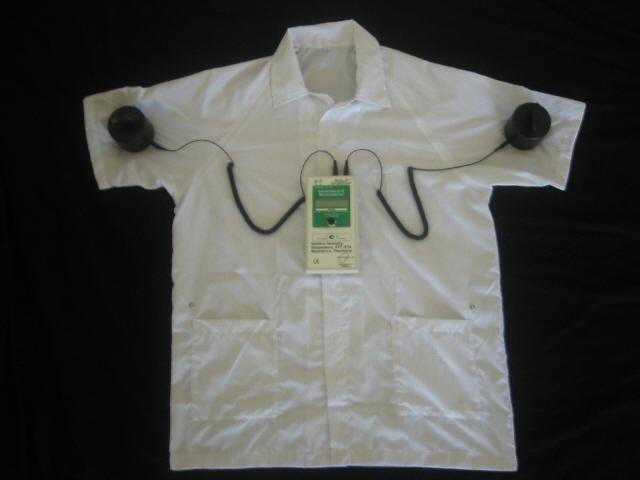 In our testing utilizing the new TR53 sleeve to sleeve test methods (as required in ANSI/ESD S20.20-2021) Cool Comfort came in at a reliable 4.24E06 at 38%rH, 67o F. and are fully compliant and tested / inspected to the tough S2.1 protocol.
ElectraWear short sleeve smocks are designed for use by employees wearing short sleeve shirts and are not recommended for use as the primary method of grounding (as a replacement for ESD wrist or heel straps). For primary grounding smocks please visit our ElectraWear Ultimate.
ElectraWear garments are manufactured in strict compliance with requirements of ISO9001 and ISO14001 and made with nylon / conductive filaments subjected to rigorous testing for ESD protective performance, cleanliness/ particle shedding and durability. Utilizing HAD (Human Active Dynamics), advanced kinematics and physiology our esd garments are designed for fit and ergonomic comfort while providing the long lasting permanent ESD protective conductivity your ESD program demands.
ESD SHORT SLEEVE SMOCKS
PRICE: $23.97 up to 2XL. Only $3.00 more for sizes 3X to 6X.

These smocks require a 30 piece minimum (single color but all sizes combined). They require a 12 to 20 week lead time. Please DO NOT place your order on the cart for smaller amounts or if you require them faster. The cart will accept smaller quantities but WE CAN NOT ACCEPT YOUR ORDER and the refund will tie up your funds due to processing times. If you agree with these terms please proceed to the shopping cart to make your purchase.