Electrical Resistance testing is imperative for proving esd flooring and matting compliance for your stringent ESD requirements as well as Taming those nasty gremlins at ISO etc :)
With a multitude of accessories available this meter can grow with your needs and is so well built it's designed to last a lifetime. Lightweight, versatile, robust and portable this device measures electrical resistivity ranging from 1.0E03 to 1.0E12. The RT can use both internal and external test probes.
The Ohm-Stat™ RT-500 - Measure Surface Resistivity via parallel electrodes or concentric rings. Tests Resistance to Ground (RTG), Resistance between Two Points (RTT) and Volume Resistance using two 5 lb. 2.5" disk probes (optional). Tests each sleeve of a garment for continuity or performance of ESD seating. Test shoes, heel grounders, and wrist straps with optional accessories.
Conforms to ANSI/ESD (S4.1, S7.1, S12.1, and S2.1), EN 61340.5.1, and ASTM-F150 standards. Designed for quality inspection of incoming materials: floor finishes, floor mats, table mats, conductive floor tiles, work surfaces, paints, bags, wrist straps, common point ground cords, footwear, packaging materials, clothing, and ESD chairs in static controlled areas. Data reported via LED display (not a digital display like our RT 1000).
Multi Range - 103 – 1012 ohms -100 percent accuracy

LED Readout - Easy to comprehend

Multi Function - Measures RTT, RTG and volume resistance

Compliant - Meets ANSI / ESD, UL and most ASTM standards

Compliant - to most Military and all EIA and EN standards

Automatic - 10 to 100 volts, automatic voltage selector

Automatic - zeroing

Portable - Small, light weight - 2.6 x 5 x 1.2 inches, 8.4 oz.
The RT 500 includes: parallel bar resistivity probes (back of meter), resistance to ground (RTG) cord, external probe input jacks, grounding hardware, instructions, 1 year limited warranty, NIST certificate, 9V alkaline battery and soft shell carrying case.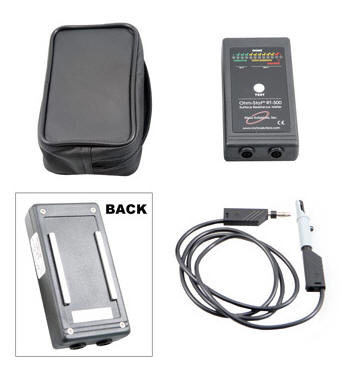 Ohm-Stat Static Solutions RT 500
PN: RT-500
Price ea: $462.99
Optional Accessories available to help your ESD program GROW!
Click HERE to Contact United Static Control Products
United SCP Tames the Static Beast BEFORE it Takes Another Byte!
®
© All rights Reserved
*