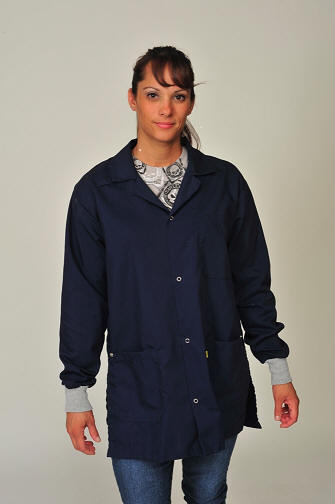 ElectraWear Ultimate Cotton Poly: Equals hand movement freedom in concert with ultimate static control protection! In the past the grounding of seated technicians was typically accomplished via the use of a wrist strap and coil cord assembly. Although the straps provide good skin to ground contact the coil cord (coming from the wrist) can feel cumbersome and unwieldy.
ElectraWear's ESD cuffs provide over 800% more contact than a standard wrist strap for optimum static control. To ground the smock (and technician) simply attach our esd smock ground cord to one of the lugs (located above the side pockets on the smock) and terminate the cord to a reliable ground point.
ElectraWear Ultimate Cotton Poly's are manufactured using a Static Neutral Cotton / Poly Blend with 2% advanced carbon monofilament. ESD knit style cuffs standard. Ground Snaps are provided above each side pocket. Popular mid length smock. Includes reinforced side pockets, a breast pocket, esd logo and side vents.
Cotton Poly smocks are known in the industry as providing great looks and long lasting comfort, outstanding static control protection and years worth of problem free performance. Compare to the competition at $42.50 to 58.41 each, purchase ElectraWear Ultimate Cotton Poly and save your ESD program a substantial amount of money while giving it the ESD protection it demands!
Click Here for alternate larger photo
ESD Cuffs Standard (often used to eliminate wrist straps)

Snap cuffs optional.

Outstanding static control!

EASY compliance to mission critical standards!

Outstanding color selection!

QUALITY materials & finely crafted - Designed to last!

ROBUST Poly Cotton at affordable pricing!

COMPLIANT to Groundable Static Control Garment System when used with ground cord and attached to an electrical ground point.
CONDUCTIVITY: ElectraWear Ultimate Cotton Poly ESD Smocks are highly static conductive and compliant to ANSI/ESD S20.20-2021 "Groundable Static Control Garment System" (if used with the ground cord) OR to "Static Control Garment" (if not used with the ground cord). Each batch is tested at our lab using STM2.1. ElectraWear Ultimate Cotton Poly's are TR-53 test friendly and warranted to provide compliance to groundable static control garment system (combination resistance of smock, technician and ground cord to ground) of <3.5E07 for a period of 50 washings or 1 year.
COLOR & AVAILABILITY: Click here to view colors. 8 weeks lead time and 50 piece minimum
Now just $33.31 each!
(small to 2 XL, larger sizes only $3.00 more)

These smocks require a 50 piece minimum (single color but all sizes combined). They require an 8 to 10 week lead time. Please DO NOT place your order on the cart for smaller amounts or if you require them faster. The cart will accept smaller quantities but WE CAN NOT ACCEPT YOUR ORDER and the refund will tie up your funds due to processing times. If you agree with these terms please proceed to the shopping cart to make your purchase.
PART NUMBER: EWUCP-(followed by size and colors).
Click Here for Distribution Cut Sheet
Click Here for Fiber Specifications, Warranty, Available Colors and Cleaning Instructions