UltraStrong ESD Floor Mats
The Toughest Most Dependable ESD Floor Mat in the Industry!
FREE SHIPPING on this ESD Matting going to our Clients in the Continental U.S.A. AND Canada! Details Apply

Indestructible! Permanent conductivity!

Robust and Easy to Keep Clean!

Dependable Performance PASSES audits!

Perfect for covering ANY hard surface flooring!

Approved for use around energized equipment

Meets FAA STD 019e

Meets ATIS-0600321.2010 & Motorola R56

Meets ANSI ESD S20.20-2014, 97.2

Tri-Layer ADVANCED permanent conductivity.
Tri-Layer ESD Floor Mat
UltraStrong advanced three layer esd floor mats provide the utmost in anti-static protection. This easy to clean static control matting is highly resistant to abrasion, tears and cracking. UltraStrong is recommended for use over hard surface floors such as Vinyl, VCT, Concrete etc. (Note: not recommended for use on carpet).

UltraStrong provides years' worth of esd protection without fading or leaving residue on your existing floor. UltraStrong handles chair caster traffic and carts without tearing, cracking or delaminating. UltraStrong's advanced Tri-Layer composition feature a static dissipative top layer bonded to a conductive inner scrim bonded to a static dissipative bottom layer for Ultimate static control protection.

The Results are in:

Permanent anti static properties and NOT dependent on the ambient humidity for conductivity.
Provides even footing for employee comfort

Long Lasting - Tough and Robust!

Resistant to cuts, tears and impact.

Resistant to ozone damage, fire and most chemicals.

Easy to clean sweep or hose off.

Vinyl composition ensures years of durable use.

Ideal for protecting large floor space in heavy use areas

Doesn't rely on ambient humidity for conductivity. Permanently conductive. Note: Not recommended for use with drag chains. Should you require a matting that works with drag chains on carts and chairs consider the Titanium ESD chair mats.
PHYSICAL PROPERTIES

Color:

Dark Gray

Size:

3/32"

Availability:

Rolls AND Pre Cuts

Weight:

0.8 lbs per SF Min

ELECTRICAL PROPERTIES

Point to Point per TR-53:

>1.0E06 <1.0E09

Resistance to Ground per TR-53:

>1.0E06 <1.0E09

RTG inner layer: S7.1

<1.0E05

Static Generation, 97.2

<100 volts
3 Layer Static Dissipative ESD Floor Mat
Product # 187-AS
ROLL PRICING:

2' x 50'

$654.99

Delivered Pricing! Continental USA and Canada!*

Click here to purchase, use the drop down to select your size

3' x 50'

$1,176.44

4' x 50'

$1,310.00

30" x 50'

$973.31

3' x 75'

$1,764.67

4' x 75'

$1,965.01

Pre Cut Pricing: We have many more precut sizes available on our cart.

3' x 4'

$108.96

Delivered Pricing! Continental USA and Canada!* Need another length or width that is not shown? Simply call us for pricing and to place your order.

Click here to purchase, use the drop down to select your size

3' x 5'

$150.00

3' x 6'

$154.44

3' x 10'

$257.40

3' x 15'

$386.10

4' x 4'

$124.80

4' x 6'

$187.20

4' x 8'

$249.60

4' x 10'

$312.00

4' x 15'

$468.00
Old School Calculator for our Sales Associates
*Terms and Conditions of Free Shipping Program
Contact United Static Control Products
Essential Static Control Products
Tame the Static Beast BEFORE it Takes Another Byte ®
© All rights Reserved
*
ASSOCIATED Items
To order 187-AS UltraStrong along with the following accessories using our new shopping cart please click here
---

Beveled hooded floor mat ground cord includes the universal snap kit shown below. Fully compliant to the latest standards and installs with just a screwdriver. On sale! Now just $5.20 each!

---


Universal mat snap kit - 3/8" - designed to fit nearly every thickness of esd bench top and floor mat. Tough, robust and fully compliant. Available in Bag O' Tens Kits, only $11.00

---


Push and Cinch Male - 3/8" - The ultimate in a secure ground connection. Pierces all layers for ultimate conductivity. Excellent for use with constant monitors, robust and fully compliant. Bag O' Tens, $6.20 per bag

---


Push and Cinch Female - 3/8" - The ultimate in a secure ground connection. Pierces all layers for ultimate conductivity. Excellent for use with constant monitors, robust and fully compliant. Bag O' Tens, $6.20 per bag

---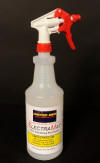 ESD Mat Cleaner - Leaves Zero Insulative residues! Keeps table top and floor matting supple and helps rejuvenate the ESD mat's conductivity. Environmentally friendly, economical and Made in the USA! Available in quarts, cases, gallons and 5's! 1 quart WITH trigger sprayer, $8.22

---


The Static Solutions RT-1000 DIGITAL electrical resistance tester. Testing the electrical. resistance of esd control items is critical for compliance of your ESD program. Test ESD floor mats, table tops, chairs, esd smocks and more. United provides the guaranteed best pricing on this device. Now just $1,118.75

---