.
Mission Critical / ESD Floor Tiles
ElectraTile ESD Tiles for Static Control
A Proven Performer at a REALISTIC Price, Permanent Conductivity and ISO Manufactured. Outstanding

Micro Edged

Dimensional Stability Provides Seamless Long Term Value. EASILY compliant to the latest ANSI ESD S 20.20 standards.
New:
Know What You're Getting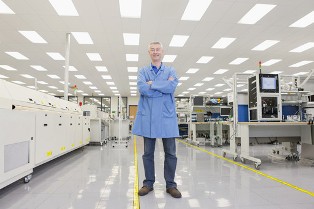 Install by United Static Control Products - Silicon Valley CA
ElectraTile Mission Critical ESD Tiles
Static Electricity - specifically, the DISCHARGE of static electricity causes numerous problems in sophisticated manufacturing environments. ElectraTile ESD tile flooring is used to drain the electrostatic charge utilizing a static conductive tile in conjunction with an electrically conductive flooring adhesive.
ElectraTile ESD flooring features a high rating for dimensional stability and compressive strength and is supplied in the static conductive range of <1.0E06 for the fastest, most complete charge decay of any esd vinyl tile in the industry. ElectraTile's outstanding micro-finish provides a clean, crisp appearance while it's superior total composition (devoid of cheap fillers and clay binders) provides unparalleled wear resistance with a > 20 year life expectancy and a Lifetime Warranty on Electrical Conductivity. ElectraTile ESD Tile, THE choice for controlling esd in clean rooms, electronic manufacturing, computer rooms, repair facilities or anywhere sensitive electronics are utilized.
45
ea 12" x 12" tiles per carton (only $4.15 Per Square Foot).
Compare to our Armstrong SDT at $6.50 per square foot!
Guaranteed BEST Online Pricing in the USA!

THE ELECTRATILE DIFFERENCE!
Unlike some esd tiles ElectraTile won't shrink break or degrade AND it doesn't require ambient humidity, conductive sprays or esd floor finish to achieve it outstanding static controlling electrical conductivity. ElectraTile meets the latest ANSI standards for safety and for static control compliance. It's readily available in multiple designer colors.

A proven performer at a realistic price!

MEETS latest ANSI ESD S20.20-2014 standards!

20 year track record! ISO Manufactured!

Resilient pure vinyl won't flake, break or degrade!

Outstanding PERMANENT electrical conductivity!

ISO Manufactured for United Static Control Products by one of the largest mills in the world!

Lifetime electrical properties not dependent on humidity for conductivity! Static conductive (NOT a mere "antistatic" tile). ElectraTile provides reliable combination resistance values of <3.5E07 for the primary grounding of technicians (the new limit is <1.0E09 so THIS gives you plenty of room in case the tile gets dirty). The combination resistance values of carts, chairs and metal racks easily pass the new standards with an ESD flooring material in this range of electrical conductivity. Easily passes 97.2! An Excellent choice for electronic manufacturing, sophisticated energetics, file server areas, control rooms and other mission critical static control environments.
NEW EASY TO USE ADHESIVE!
For Porous and NON-Porous Concrete! EASY cleanup! Never Stains Tiles!
Click here for more details and application instructions
ElectraTile's resilient tightly compacted composition features permanent conductivity. Unlike many ESD Vinyl's ElectraTile won't flake, break or degrade even in the harshest of environments. It's clean room compliant, DOP Free and offers excellent stain resistance properties. Unlike some ESD tiles our ElectraTile and our unique conductive adhesive doesn't depend on ambient environmental moisture to perform. Hence, ElectraTile has some of the most consistent electrical properties in the industry. Whether your ESD Floor is new or 30 years old THIS is a material you can depend on. And with ElectraTile Flooring you receive one of the strongest warranties in the industry backed by the outstanding reputation of one of the largest vinyl flooring manufacturers in the world!
Click HERE to Contact United Static Control Products
© All rights Reserved
This page last updated, tested or reviewed for accuracy on
02/24/2020
*