United Static Control Products
Colorado's SOURCE for ESD Flooring, ESD Flooring Installations, Certifications and Essential Static Control Products!
Looking for a company in Colorado with EXPERIENCE in the field of ESD?
We've been here for Colorado since 1993!
United got its start in the late 80's helping develop a unique resistor free static control wick for Aircraft. Our first US and Worldwide patents were for static control products for Televisions and Computers in 1992. We released our first movies (this one is priceless) on static control (they were professionally filmed - that's right on TAPE ) in Pueblo, CO about 1993.
We started this web site (a year or two before Google's) and began manufacturing our unique ClearView for Televisions and the UltraStat for Computers in Colorado City, CO. This was when we learned the hard way about the need for ESD control in the manufacturing environment. more history
At United SCP All We Do is Static Control!
United Specializes in ESD flooring and solutions to Tame the Static Beast! We've installed and certified millions of square feet of ESD flooring and are a time tested proven resource in Colorado and Nation Wide for 3rd Party ESD Flooring Certifications to the latest ANSI ESD S20.20-2021 and D.O.D standards.
What's New?
3.1.23: We're Expanding! We've just opened a new manufacturing and distribution center in Pueblo Colorado. Stay tuned for details & promotions. Look for specials on select products from our new location! Use coupon code WELOVECOLORADO!
6/7/23: Our new Colorado facility is cooking right along! We've been supplying custom ESD mats for Google, Apple, VW and many more clients as of late. Why do they purchase from a small company in Colorado when they shop the WORLD and have SO many choices?
Because they know we Tame the Static Beast BEFORE it takes another Byte! (plus we test and certify the ESD mats to the latest standards, proof positive that the mats are working :)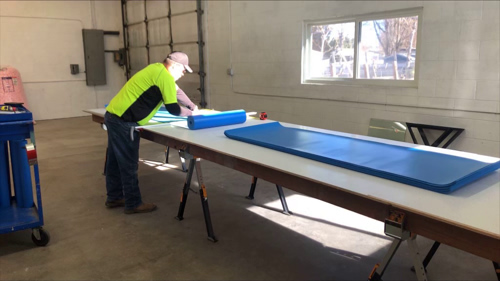 Custom Cut ESD Table Top Mats. Tested, Certified, Made in Colorado!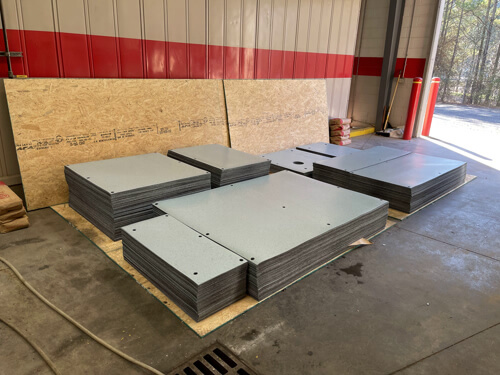 Peel and Stick! Water Jetted ESD Mats for EV Manufacturing
Recent ESD Flooring Installations!
We do more than just provide THE best static control products at great prices! Check out our new 250,000 square foot ESD flooring installation in Mexico! Or, our 75,000 SF ElectraGuard ESD Epoxy floor In Tampa Florida, a real beauty in Carson City Nevada and another ESD floor in California. For more information on our Nation Wide ESD Flooring installations please click here.
At United Your Needs Count!
Compare our solutions to the high overhead big boys. Call United SCP, save your ESD program a substantial amount of money and get the high quality, service and performance you deserve from a local supplier with outstanding products and a proven track record.
Contact United Static Control Products!
Tame the Static Beast Before it Takes another Byte!
© 1996 - 2023 All rights Reserved
This page last Updated on
06/27/2023
*