.
URAS MISSION CRITICAL
Odor Free Peel and Stick Flooring Adhesive.
For ESD Sheet Vinyl (made with a full surface conductive backing) and ALL Types of Standard Vinyl and Carpeting.
Click HERE to purchase URAS Online
Reliable anchoring of new flooring to old.
New flooring can be relocated / reused / reconfigured.
Odor Free!

Fast, safe and environmentally friendly.

Excellent for covering old asbestos laden flooring.

Cuts installation cost in half, NO mess, very clean!

Floors can be used immediately, no curing time required.

Floors can be used immediately, no curing time required.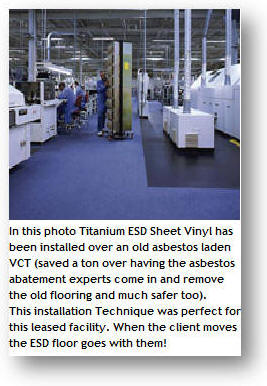 With URAS textile reinforced odor free esd and standard floor covering adhesive, Multiple types of floor coverings can be bonded to a variety of substrates. URAS is perfect for covering old asbestos laden flooring with ESD sheet vinyl using this method. It's perfect for installing ESD flooring where typical flooring adhesive odors may be a problem (no odor equals nothing for production technicians to complain about;). URAS is excellent for bonding ESD sheet vinyl to VCT, VCT to concrete and more.
United SCP presents an innovative way to bond your new floor covering to a variety of substrates. URAS allows the use of old flooring substrates (including sealed, painted or epoxy coated concrete or asbestos laden floor covering) as an underlayment for new flooring. Perfect for raised computer flooring and floors going into leased facilities (it doesn't leave a residue like liquid adhesives).
No need to disturb old asbestos laden flooring materials. Save time and aggravation by not removing well bonded VCT, floor sealers or epoxy. Save the headaches of having to allow your floor time to cure before putting it to use (or the associated smell typical with liquid flooring adhesives). URAS works with a broad range of conductive AND standard flooring.
Full Specifications and General Application Instructions
Installing Titanium ESD Sheet Vinyl With URAS
Installation Overview: Substrate must be dust / oil free and permanently dry. If going over concrete, moisture emission are not to exceed 3.0 lbs per 1000 sq. ft. in 24 hours (via Cal Chloride test method). Simply unroll URAS (adhesive side down) on substrate, smooth in place (broom works great), remove top liner, place new floor on exposed adhesive and roll in place. When using with Broadloom carpeting seam as usual. If required, weld vinyl sheets and tiles as usual.
URAS Order Information: P.N. # 7700-1025 (standard)
Click HERE to Contact United Static Control Products
ESD Flooring, Mats, Chemicals, ESD Ionizers, and Expertise
United SCP Tames the Static Beast BEFORE it Takes Another Byte!
®
© All rights Reserved
*