.
Florida's SOURCE for ESD Control
ESD Flooring Installations, Materials and Essential Static Control Products
Visit our NEW warehouses and Corporate Office in Bradenton!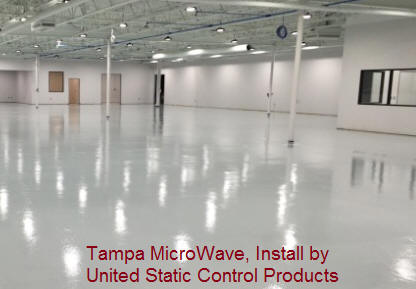 ElectraGuard ESD Epoxy Floor Paint, Fully compliant for Circuit Board Manufacturing and 3-D Printing.
At United SCP we're NOT just another rep firm or inexperienced newcomers to the field of esd protection! We've been manufacturing static control products, installing ESD flooring and supplying ESD products in Florida since 1993!
We've been manufacturing static control products since 1993!
United got its start in the late 80's helping develop a unique resistor free static control wick for Aircraft. Our first US and Worldwide patents were for static control products for Televisions and Computers in 1992. We released our first movies on static control about 1993, started this web site (a year or two before Google's) and began manufacturing our unique ClearView for Televisions and "the UltraStat" for Computers in Colorado City CO and Tampa Florida. This was when we learned the hard way about the need for esd control in the manufacturing environment. Along with providing Essential Static Control Products, United Specializes in ESD flooring and solutions to Tame the Static Beast!
At United All We Do is Static Control!
We've installed and certified millions of square feet of esd flooring and are a time tested proven resource for installations in Florida as well as nationwide. Each install come complete with no hassles, no headaches and on time completion. Each install includes full certification to the latest mandatory ANSI ESD S20.20-2014 standards making ISO ESD audits painless and documenting your protection.

Recent ESD Flooring Projects Completed by our Florida Installation Team


ESD Flooring in North Carolina - Tolt Chose an ElectraGuard ESD Epoxy for the sensitive builds with a perimeter coated with ElectraSeal for the forklifts carrying "protected finished products." Outstanding use of multiple flooring for specific needs!

Anonymous Client - Secret Location! Why is United used for Mission Critical Highly Secured Locations? Our installers are citizens of the U.S.A. who have passed extensive background checks! And, our materials are Made in America!

ESD Flooring in Boston MA - Thermalogic Corporation needed ESD flooring yet had no place to move the benches! Tear out of existing VCT was out of the question! Impossible Install? Not! Installed over standard VCT!

Install in Tecate' Mexico - ElectraGuard Epoxy over newly poured concrete in beautiful Tecate Mexico! ElectraGuard doesn't have the problems with vapor emissions associated with esd tiles. It's Perfect for use in fast track new construction!

Install in Illinois - Elan Industries in Bolingbrook, Illinois, ElectraGuard ESD Epoxy over concrete that has been prepped to provide a seamless ESD floor for ultimate cleanliness and ease of maintenance. Easily passed the latest standards for compliance in 2017!
Compare our Solutions
To the high overhead big boys. Call United SCP, save your esd program a substantial amount of money and get the high quality, service and performance you deserve from a reliable supplier with outstanding products, a proven track record.
Contact United Static Control Products!
Tame the Static Beast BEFORE it Takes Another Byte ®
© All rights Reserved
12/28/2019
*