Mission Critical Static Control Carpet Tile
24 ounce, FAA / ANSI / ESD S20.20 Compliant
In Stock, 24" x 24" & NO Minimums. Made in the USA!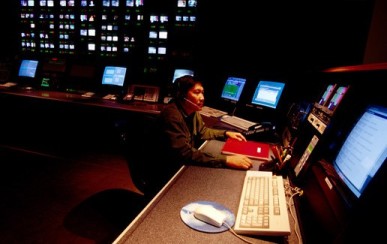 For mission critical applications such as Server Rooms, the FAA, DOD and the Military, static induced equipment malfunctions are just NOT an option.
Our FAA Series 24 oz Mission Critical Carpeting conforms to THE most stringent standards for ultimate static control while providing beautiful aesthetics in concert with the utmost in ergonomic comfort.
Mission Critical ESD fibers are interwoven into every yarn tuft and drain the user induced static charge from people and equipment in a heartbeat. FAA Series Carpeting is easy to install, permanently static conductive, environmentally friendly, lifetime warranted, easy to maintain and typically in stock and ready for shipment.
EXTREME SERVICE MISSION CRITICAL CARPETING
Physical Properties and Availability
Construction:

4019, 4012, 4004, 4030, Classic-textured loop, straight / PSP with Ecc Roll.

4090, 4070, textured graphic loop.

Yarn Weight:

24 oz per sq. yd. (813.76 g / sm)

Total weight:

148 oz per sq. yd.

Stitches per inch:

4019, 4012, 4004, 4030; 11 (43.31/10 cm)

4090, 4070; 10 (39.37/10cm)

Finished pile height:

high 6/32", low: 4/32"

Fiber:

4019, 4012, 4004, 4030; Solutia LXI nylon, conductive fiber in every tuft.

4090, 4070; Performa SD Nylon type 6, conductive fiber in every tuft.

Backing:

100% static dissipative PVC free recyclable

Flammability:

ASTM E-648 flooring radiant panel. Class 1 (>.45 W/cm2). ASTM E-6662 NBS smoke density <650

Sound Absorption:

ASTM C432-90; Noise Reduction Coefficient, NRC>.25

Size:

24" x 24" (approx)

Packaging:

12 tiles per carton (48.06 SF per carton).

Harmonized Tariff Code

7403190000

Warranty

10 Plus years - see details

Note: This product has been awarded the Carpet and Rug Institutes' Green Label Plus certification for indoor air quality. Green Label Plus is a voluntary testing program for carpet products that establishes the highest standards for indoor air quality that have ever been set by the carpet industry. Green Label Plus identifies carpeting that is tested by an independent, certified laboratory and meets stringent criteria for low chemical emissions.
Electrical Specifications
| | |
| --- | --- |
| Electrostatic Propensity: ESD STM 97.2 (w/conductive footwear) . | <100 Volts |
| AATCC 134-06 (w/o conductive footwear) | 0.4 kV (400 Volts) |
| Electrical Resistance: ESD S7.1 / NFPA 99 | >2.5E04 <1.0E08 |
| Electrical Performance: DOD HDBK263A, section 40.1.2: | Meets recommended guidelines for sensitive ESD devices, Class 1. |
This site is protected by Copyright and Trademark laws under US and International law.
© UNITED SCP All rights Reserved
07/28/2022
*