ElectraShield-7077 Static Dissipative Carpet Treatment
Transforms Standard Carpeting into Static Dissipative Carpeting at a cost of around $0.20 cents per square foot. Hits the "sweet spot" for safe yet effective conductivity making the carpet appropriate for use around Energized Equipment. Low to no odor and environmentally friendly. ElectraShield generally meets the recognized electrical resistance standards of ANSI/ESD S20.20-2021 (including the 97.2 portion of the test), FAA STD 019e, ATIS-0600321.2010 and Motorola R56 making it a perfect option for Labs, Telecom Areas, Server Rooms, FAA Tracons / ATC Towers and more!
Please Note: United has currently pulled this product from our lineup due to issues obtaining the active ingredient. Please contact us for updates on when it will be available in the future. SRC 5.8.23
Thin Pile direct glue down standard carpeting treated with ElectraShield MEETS many of the latest ESD standards at a fraction of the cost of ESD carpet tiles.
This Industry Exclusive Advancement in technology turns standard carpeting into static dissipative carpeting at a fraction of the cost of static control carpet tiles.
ElectraShield is fast and easy to apply, low to no odor and long lasting (one year typical). ElectraShield meets stringent VOC emissions standards.
Reduces the Static Charge even on people wearing standard shoes!
ElectraShield transforms standard glued down carpeting into Operational Equipment Grade Static Dissipative Carpet thus helping control the damaging effects caused by an electrostatic discharge to sophisticated electronics.
This level of static conductivity generally meets a multitude of high level standards such as ANSI ESD S20.20-2021, ATIS-0600321, Motorola R56 (c.3.3 flooring) and FAA STD 019E. Note: Pretesting is always recommended.

TECHNICAL OVERVIEW: ElectraShield is a water based neutral pH carpet treatment formulated with a blend of polymers, co-polymers, non-ionic surfactants (that help protect the carpet from stains) and a proprietary static dissipative additive which provides long term electrostatic conductivity. This proprietary formulation chemically bonds at a molecular level to the carpet fibers and it's backing. ElectraShield is designed to work in conjunction with the ground system in the facility and should be used in conjunction with grounded metal equipment racks or one United SCP Ground Plate per 750 square feet of carpeting.
ElectraShield significantly reduces static by providing an electrical conductivity that is considered SAFE and is approved for use around Energized Equipment.

Perfect for 911 Centers, Labs, Networked Offices and Server Areas.

Recognized as SAFE around energized equipment.

Long term life expectancy and easy to reapply if needed.

Easy, FAST application with little to no odor

Environmentally Friendly, Low VOC content.

Made in the U.S.A!
A Three Decade Increase In Static Conductivity
| | | |
| --- | --- | --- |
| Before Treatment: 1.73E10 (insulative) expand | | After Treatment: 8.59E06 (static dissipative) expand |
For a Dramatic Decrease In Static Voltage Generation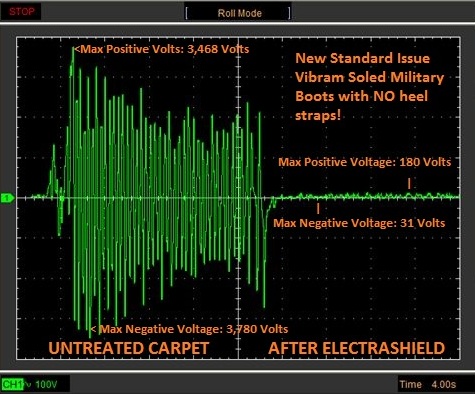 Test Results: After aging the sample for 1.5 years we placed the 6' x 3' wide carpet strip (1/2 treated, the other 1/2 untreated) on an insulative switchboard mat and attached the treated portion to electrical ground. Using an ESD wrist strap we attached a seated Technician (isolated from ground) to a Monroe Charge Plate Analyzer set to function in data acquisition mode. This instrument was attached to an Oscilloscope and Computer. The technician provided walking type steps starting on the left side of the carpet and proceeded across the sample. CSV data was provided by the Monroe to the O-Scope. This was converted into an Excel File that presented us with minimum and maximum voltage.
---
Installation and Maintenance
NOTE: Due to the pile height, variances in carpet fiber construction and factory applied stain resistance chemicals ALWAYS pretest this product for compatibility, color fastness, staining and electrical conductivity prior to full scale usage. Quart size sample containers of the product are available at this location on our shopping cart. This product is not recommended for Persian style wool rugs.
APPLICATION INSTRUCTIONS: Vacuum the carpet to remove loose dirt and soil. Spot clean stains if needed. To prepare the carpet extraction clean using a dilute solution of 4 ounces of ElectraClean or CleanShield to 1 gallon of hot water. Allow carpet to dry thoroughly prior to application of ElectraShield.
Apply Ground Plate* if required (see note) PRIOR to coating carpet. It will not adhere AFTER the carpet has been treated.
Apply ElectraShield full strength using a pump up weed sprayer in conjunction with a sponge mop. Thoroughly work the spray into the carpet with the sponge mop so as to wet the carpet and the backing. The use of floor dryers, blowers or fans will assist in drying the carpet more quickly.
Apply ElectraShield at approximately 350 square feet per gallon depending on pile height. Soak the carpet well - it's best to do this procedure on a Friday to give the carpet time to dry over a weekend. Carpet fans may be used to speed up drying time.
*NOTE: If grounded metal objects such as workbenches or server racks will be installed over the carpeting no other ground mechanism is required. If no grounded metal objects will be placed on the carpet install one each peel and stick ground plate for every 500 square feet of treated carper prior to installing the ElectraShield.
MAINTENANCE: Vacuum carpeting as needed. For heavily soiled carpeting extraction clean use a dilute solution of 8 ounces of ElectraClean or CleanShield to 1 gallon of hot water. This product may need re-applied after aggressive extraction cleaning.
Specifications
| | |
| --- | --- |
| Electrical Resistance to Ground per S7.1 | >1.0E06 and <1.0E09 (static dissipative) |
| Electrical Resistance Point to Point per S7.1 | >1.0E06 and <1.0E09 (static dissipative) |
| Typical static discharge in standard footwear (Military issue Wellco boots with Vibram® soles at 28% rH) with NO heel Straps. | 2,000 volts to <10% of initial charge (<200 volts) in .2 seconds. |
| Typical static discharge in standard footwear (Military issue Wellco boots with Vibram® soles at 28% rH) WITH Heel Straps. | 5,000 volts to zero in .2 seconds. |
| Typical walking voltage (tribocharging) in standard footwear (Military issue Wellco boots with Vibram® soles at 28% rH). Note: Human perception of a static discharge is about 3,000 to 5,000 volts. | < 500 volts |
| ANSI ESD S20.20-2021, 97.2 (with heel grounder) | < 100 volts |
| Biodegradable | yes |
| VOC Content | 80 grams per liter |
| Coverage | approximately 350 square feet per gallon |
| Shelf Life | 1 year |
| pH content | 6 +/-0.5 |
| Health | 1 |
| Flammability | 0 |
| Reactivity | 0 |
| Personal Protection | B |
Please Click Here for SDS Sheet
Looking for ESD Carpeting with PERMANENT Static control protection?
Easy install, value oriented, life time static control properties
Contact United Static Control Products!
Tame the Static Beast Before it Takes another Byte!
© 1996 - 2023 All rights Reserved
This page last Updated on
05/08/2023