.
ElectraFlex / Toro
Anti Static Floor Tile / Anti Static Sheets Floors for Static Control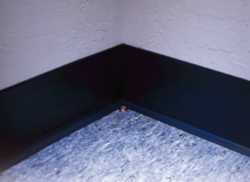 ElectraFlex / Toro Static Dissipative and Static Conductive floor coverings are available in tiles and sheet goods. ElectraFlex / Toro is manufactured using an exclusive process creating a truly homogenous composition for the utmost in even static dissipation. ElectraFlex / Toro's construction utilizes a proprietary top surface wear layer bonded to a full surface conductive bottom layer providing static busting properties simply unheard of with other esd floor covering materials.
It's truly resilient, yet durable and abrasion resistant. ElectraFlex / Toro won't flake or degrade under heavy weight loads and passes tough military standards for chemical and fire resistivity. With excellent cleanliness and extremely consistent conductivity, it's perfect for medical facilities, electronic assembly and THE most sensitive of esd control environments. Within the ElectraFlex / Toro product range is our EL series, a conductive floor covering available in nine colors and our AS series (a static dissipative floor covering material) available in nine non-directional colors. Both Series are available in 2 meter wide by approximately 20 meter lengths or tiles or 2' x 2' tiles. These products are permanently conductive and require no wax or floor finish to maintain their superb electrical properties.

Permanent Conductivity through out.

Fully heat weldable extreme cleanliness.

Superior diamond hard top wear surface.

Flexible roll goods, perfect for flash covering.

Extremely durable and abrasion resistant.

Ultimate in controlled electrostatic discharge.

Available in static dissipative AND Static Conductive.
ElectraFlex / Toro EL Series Static Conductive ESD Sheet Goods and Tiles
ElectraFlex / Toro AL Series Static Dissipative ESD Sheet Goods and Tiles
Click HERE to Contact United Static Control Products
United Static Control Products
© All rights Reserved
*