Our unique gel style esd wrist straps are manufactured using 100% silicon rubber. Unlike elastic and cloth straps that may shed fibers as they age these straps are extremely clean - in fact clean room compliant. Our ESD Gel Straps are extremely comfortable to wear and won't pinch the skin like some metal band esd wrist straps. One size fits all.
Ultimate Static Control Protection for Mission Critical Builds
The strap's heavy duty 3/8" snap won't inadvertently come unsnapped like some of the light weight 4 mm connections providing a secure and reliable attachment of the polyurethane blue ground cord (supplied at no charge with each strap).
Our Gel Strap Assemblies are fully compliant as a primary ground for the technician and meet the latest ANSI ESD S20.20-2021 standards. Each strap is clearly stamped with international ESD warning logo and they are individually packaged for secure deployment. They contain the industry recommended 1 meg ohm safety resistor and may be used with most constant monitors including our AEI and Static Solutions series.

THE most comfortable ESD wrist strap in the Nation.

Contains 1 meg Safety resistor.

Easy to keep clean and hypoallergenic.

Clean room compliant.

INCLUDES a blue 6' ground cord at NO Charge.

Bright colors, clean crisp appearance.

Highly resistant to oil, grease and common chemicals.

Fully compliant to the latest ESD /ANSI / JEDEC / MIL standards.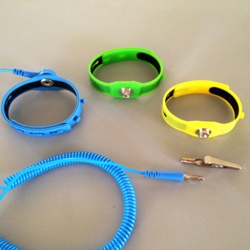 Prices
NOW Just $3.49 each!!! And YES the cord is INCLUDED!
Part Number: WO404 followed by color
Stock Status: Excellent.