ELECTRASTAT Type 180
Interlocking ESD Flooring Runners
Anti Static and Anti Fatigue! Build to any length!
Outstanding static control for mission critical manufacturing
FREE SHIPPING on this ESD Matting going to our Clients in the Continental U.S.A. AND Canada! Details apply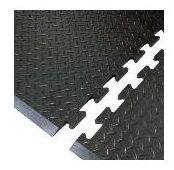 Give your employees the comfort they deserve. Give your product the static control PROTECTION it demands! THIS conductive interlocking anti-fatigue static control floor mat provides employee comfort! After all, a more comfortable technician is a more productive Technician!
ElectraStat 180 is a static conductive (not merely antistatic) material for ULTIMATE static decay and ULTIMATE static control. Type 180 features end pieces and center sections that interlock for a runner of ANY length. Type 180 is provided with a diamond plate vinyl top surface over an air cell shock absorbing underside. ElectraStat 180 (in combination with ESD heel straps), may be used as a replacement for ESD wrist straps for (for standing technicians). ElectraStat 180 easily meets the stringent new S 20.20 standards and provides static control properties that rival expensive ESD flooring at a fraction of the cost.
Click for close up of diamond plate safety texture
Click HERE to download Data Sheet
Diamond Plate Top Surface

Pneumatic Shock absorbing underside

Outstanding static control properties

Outstanding ergonomic comfort and support

For standing technicians

Not for use with chairs or stools

Build to any length

Ramped outside edges

For covering thin pile glued down carpet and all surface flooring

Easy to ground (requires PN 115 ground cord kit).

Easy to clean!

Made in the USA and HEAVY DUTY

A full 1/2 inch thick

28" wide X 30" long

Ramped outside edges

Center pieces and end pieces
ASSOCIATED Items
To order 180-AS along with the following accessories using our shopping cart please click here
---

Beveled hooded floor mat ground cord includes the universal snap kit shown below. Fully compliant to the latest standards and installs with just a screwdriver. On sale! Now just $5.20 each!

---


Universal mat snap kit - 3/8" - designed to fit nearly every thickness of esd bench top and floor mat. Tough, robust and fully compliant. Available in Bag O' Tens Kits, only $11.00

---


Push and Cinch Male - 3/8" - The ultimate in a secure ground connection. Pierces all layers for ultimate conductivity. Excellent for use with constant monitors, robust and fully compliant. Bag O' Tens, $6.20 per bag

---


Push and Cinch Female - 3/8" - The ultimate in a secure ground connection. Pierces all layers for ultimate conductivity. Excellent for use with constant monitors, robust and fully compliant. Bag O' Tens, $6.20 per bag

---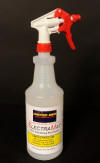 ESD Mat Cleaner - Leaves Zero Insulative residues! Keeps table top and floor matting supple and helps rejuvenate the ESD mat's conductivity. Environmentally friendly, economical and Made in the USA! Available in quarts, cases, gallons and 5's! 1 quart WITH trigger sprayer, $8.22