ElectraWear Full Length Anti Static
Static Dissipative - Lab Coat
Click Here for More Options in ESD Garments

Static Dissipative, Does NOT Attract Lint!

Class 1000 Clean Room Compliant Standard!

Class 100 Clean Room Compliant Available!

ZERO particulate attraction.

Recommended for non critical ESD Control.

Non shedding for clean assemblies.

Light weight yet indestructible!
Anti static polyester with a 2% carbon monofilament slowly controls and reduces static charges. An EXCELLENT choice for mobile computer repair technicians. This antistatic lab coat doesn't attract lint, dust and particulate and helps to shield the static charge from a technician clothes and PROTECT static sensitive product. Excellent for use in Clean Rooms. Perfect for use in packaging, fiber handling and many non critical static control environments.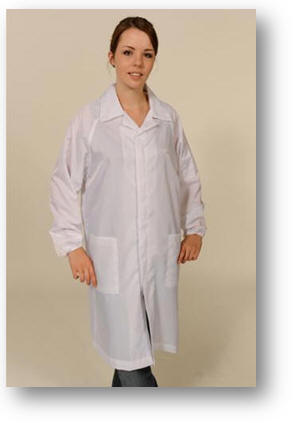 ElectraWear Static Dissipative Full Length Lab Coat: Static Dissipative, high end electrical properties (low conductivity). Perfect for many non critical esd control areas. An excellent choice for clean room applications and manufacturing. These smocks do not attract particulates and lint and do not shed fibers. Self adjusting elastic cuffs, snap or zipper front closure, 98% Polyester with 2% advanced carbon pin stripe monofilament, indestructible and stain resistant! Popular and professional! Full length with side pockets.
CONDUCTIVITY: ElectraWear anti static lab coats are not considered TR-53 test friendly but are compliant to a modified ANSI/ESD S20.20-2014 TR-53 "static control garment test" (use of ionization is required to remove static from test equipment and fixture when testing at this very high range). Click here for details
Typical panel to panel and sleeve to sleeve resistance: 8.9E10 @ 50%rH. Typical conductivity in line with carbon filaments: <1.0E06. For this same style garment with higher conductivity please click here.
AVAILABILITY: Available in snap and zipper front closure systems, multiple colors. See shopping cart for current inventory. Should you select a color or size that is not in stock delivery is approximately out 8 weeks. Minimums of 30 to 300 pieces may apply.
SPECIAL ORDER PRICE: $20.61 with a 50 piece minimum, 8 week lead time, (contact your sales associate to place your order.
PART NUMBER: EWFLAS (snap front), EWFLASZ (zipper front) followed by size and color PN. Example: EWFLASZ-M-W01 (this is an ElectraWear Full Length Anti Static zipper front in a medium / white)
Click Here for Fiber Specifications, Warranty, Available Colors and Cleaning Instructions
CONTACT UNITED STATIC CONTROL PRODUCTS
This page last Updated on 12/18/2019