.10" x 20" Double Sided Hanging ESD Awareness Signs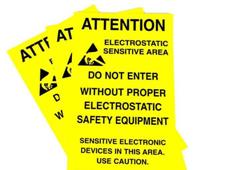 Attention Electrostatic Sensitive Area!
Hanging Double Sided ESD Awareness Signs.
Size: 10 inch wide x 20 inches tall
Sold in packages of 3.
Yellow with bold black print, JEDC-14 (hand) symbol. Used for defining an esd safe area and warning visitors and employees that they must be in compliance prior to entering the area. These signs feature 2 precut holes making the signs perfect for hanging applications. Available in packages of 3 each. Coated for added durability and fully compliant to the new ANSI ESD S20.20 requirements.
Large Photo

Clear and concise, outstanding visibility!

Double Sided

PERFECT for hanging applications.

Warns personnel that they are entering a static safe area!

Coated for resistance to grease, oils, water and many chemicals!

Fully compliant to latest ANSI ESD standards!

Lead free and RoHS compliant!

Perfect for marking static sensitive areas in electronic manufacturing and other static sensitive environments!
RESISTANCE to water, oil and many chemicals: Excellent
WIDTH: 10 inches
LENGTH: 20 inches
| | | | | |
| --- | --- | --- | --- | --- |
| Part Number | Size | Qty per Package | Price | |
| B6720 | 10" x 20" | 3 | $55.77 | Buy Online |
Tame the Static Beast Before it takes another Byte
© All rights Reserved
*