.MIL STD 129N ESD WARNING LABELS / MIL STD SYMBOL ESD WARNING STICKERS
Buy MIL STD ESD Warning Labels Online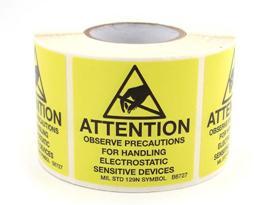 These bright yellow and black self adhesive esd awareness labels conform to MIL STD 129N, SYMBOL B627 and are designed to call immediate attention to items that are susceptible to damage from an electrostatic discharge (an esd event). We provide these in 4 sizes with a permanent adhesive backing. The labels are coated for added durability and resistance to water, moisture and many common chemicals. These labels further conform to the new ANSI ESD S20.20 requirements that ESD sensitive assemblies should be provided with a visible ESD susceptibility symbol. Large photo of square labels

Photo of 5/8" x 2" label

Clear and concise, outstanding visibility,

Each label marked for with MIL STD 129N, SYMBOL B627 for conformance!

Coated for resistance to grease, oils, water and many chemicals!

Fully compliant to latest ANSI ESD standards!

Lead free and RoHS compliant!

Perfect for marking static sensitive items in electronic manufacturing and other static sensitive environments!
MATERIAL: 60# semi gloss litho.
ADHESIVE: B-82
LINER:40# R L.
WATER AND GREASE RESISTANCE: Excellent
WIDTH: 2", 4" and 5/8 inch.
LENGTH: 2" or 4"