.
ESD Aisle Marking Tape, THREE inch wide and coated for extreme durability.
Buy ESD Aisle Marking Tape Online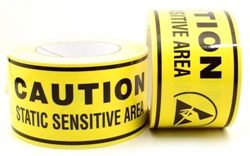 This high visibility lead free esd aisle making tape is perfect for use in marking the boundaries of a static safe work area. It's not only important it's mandatory when complying to the latest standards. Let visitors and employees KNOW where the static control area starts and stops! Coated for high durability and scuff resistance, it's highly tear resistant and conforms to the new ANSI ESD S20.20 requirements.
Larger Photo

Clear and concise, BOLD print, outstanding visibility!

Coated for resistance to grease, oils, water and many chemicals!

Fully compliant to latest ANSI ESD standards!

Lead free and RoHS compliant!

Resistant to water and floor care chemicals.

Perfect for marking static sensitive areas in electronic manufacturing and other static sensitive environments!
MATERIAL: Vinyl and no VOC adhesive coating
ADHESIVE: Acrylic with medium bond strength
THICKNESS: 4 mil
WIDTH: 3 inches.
LENGTH: 54 Feet OR 108 Feet