ElectraBrush® ESD Brush
7.5 inch Long Anti Static Brush
This esd hand brush feature medium firm bristles, it's heat resistant and is made with nylon fibers that won't slough carbon and get your parts dirty. It has a static conductive handle permanently bonded to 100% static dissipative 6.12 nylon bristles for a fast yet controlled discharge of static electricity thru the grounded technicians hand.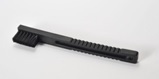 SI-514S ESD Safe 7.5 inch long static control brush with static conductive nylon handle. Used to remove particulate and static laden dust and debris. Features a static conductive vinyl handle that equalizes the static potential between the brush fiber, handle and technician for subsequent discharge of accumulated charges through the primary ground system for the technician. Heat resistant and resistant to most common chemicals used in the electronic assembly environment. Easily exceed the latest passable requirements for use in static control environments with a volume resistance of >1.0E04 and <1.0E11 when tested to ANSI/ESD STM11.12-2007. Perfect for electronic manufacturing, especially circuit boards and other static sensitive items. Click HERE for large photo.

Static conductive handle.

100% Static dissipative 6.12 nylon bristles.

Chemical resistant nylon bristles and handle.

Non sparking and heat resistant.

Carbon free bristles with NO carbon sloughing.
| | |
| --- | --- |
| Detail | Value |
| Bristle Type | Firm, nylon, non marring, 0.12mm bristles |
| Fibers per ANSI/ESD STM11.12-2007 | > 1.0E04, <1.0E11 |
| Handle per ANSI/ESD STM11.12-2007 | > 1.0E04, <1.0E06 |
| Bristle Trim Length | 3/4" |
| Bristle Head Width | 1.5" |
| Bristle Head Height | .5" |
| Handle Length | 7.5 inches |
| Handle Width | 3/4" |
| Heat Resistance | 80 degrees C. / 176 deg F. |
| Supplied in units of 1, 10 and 25 | Part Number: SI-514S |
Part Number: SI-514S
Weight 6 ounces
Cost $7.99 each with quantitiy discounts available