.
ESD Control Concrete Sealer
Economical, Long Life, Easy to Maintain.
LOW VOC Content MEETS new Green Building Standards, ANSI / ESD Compliant to latest standards and Made in the U.S.A!
ELECTRASEAL ANTI STATIC CONCRETE SEALER!
Today's reality dictates an increasingly daunting task. To meet the latest ANSI ESD static control standards and assure your successful manufacturing of static sensitive electronics esd flooring is a must! Yet in today's economy does it make since to pay $7.00 to 10.00 per installed square foot for esd tiles, thick set esd epoxy or an anti-static rubber floor? Most think NOT! ElectraSeal seals concrete with an effective static control formulation designed to meet today's latest requirement and eliminate dust production of the concrete slab for less than $.20 cents per square foot.
RELIABLE PERFORMANCE, OUTSTANDING VALUE!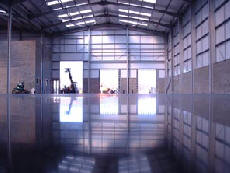 Static Control Performance!

Eliminates concrete dusting!

Clean, high tech glossy appearance.

Economical, durable and long lasting.

Excellent for use on non esd tiles.

LOW Odor, LOW VOC's (<55) test results Meets new green building standards! ElectraSeal works best on unsealed concrete but will bond to a variety of sealed and unsealed concrete (pretesting is always recommended).
WHY A STATIC CONTROL CONCRETE SEALER?
Cost, Performance and Longevity. A typical concrete slab will post fairly good electrical conductivity due to the moisture content of the concrete. Unfortunately this electrical conductivity fluctuates dramatically with the ambient humidity and moisture content of the slab. In addition, unsealed concrete is dusty, absorbs contaminants such as oils and liquids and ends up being a time consuming maintenance nightmare!
APPLICATION IS FAST, EASY AND LOW ODOR!
Best results are obtained when ElectraSeal is applied to cured concrete slabs which are 60 Deg F. or warmer and in relative humidity conditions of < 50%. Remove nuisance dust by sweeping with a soft bristle broom. A sweeping compound that does not contain oil may be used if needed. Thoroughly vacuum slab to remove any remaining loose dirt or dust. If contaminants such as oil and grease have soaked into the slab wash with ElectraClean rinse slab and allow to dry completely prior to application of ElectraSeal. Install one ground strip (included at no charge with your order) for every 2,500 square feet of flooring. Please click here for grounding instruction.
Two to three coats of ElectraSeal will provide the optimum gloss and durability. Apply thin even coats using new loop end rayon or other non linting finish mops, allowing ElectraSeal to dry, (depending on humidity and temperature) for approximately 60 minutes between coats. Typical life span of product is approximately 3 years and dependent on traffic and maintenance. ElectraSeal May be effectively recoated without removal. For best results do not burnish.
EASY TO MAINTAIN!
ElectraSeal is an extremely durable Anti Static concrete sealer. After application and curing of ElectraSeal routine maintenance (to be expected with any floor) is all that is required to maintain the luster and conductivity of the finish. It's important to remove abrasives that can scratch and degrade the conductivity by dry mopping (usually on a daily basis). On an occasional basis (most of our clients prefer to do this once every week or two) damp mop the floor with a diluted mixture of ElectraClean and water and allow to dry. Note: Use only ElectraClean to damp mop your ElectraSeal floor. NEVER wash any esd floor with plain water.
NOTE: ElectraSeal is often used as a flooring substrate that must meet ANSI ESD 97.1 (the combination resistance level of a technician in heel grounders in conjunction with the flooring and electrical ground). Although ElectraSeal normally meets this standard with a resistance level of <3.5E07 it should be thoroughly pre-tested on the substrate to receive the coating prior to use in this fashion.
PRICING, AVAILABILITY, ORDERING INFORMATION
1 Gallon, Part Number E-Seal-1
Price: $129.00
Shipping Weight: 10 Lbs.
1 Case (4 each one gallon containers), Part Number E-Seal-4
Price: $434.50
Shipping Weight: 40 Lbs.
5 Gallon Container, Part Number E-Seal-5
Price: $528.97
Shipping Weight: 50 Lbs.
CONTACT UNITED STATIC CONTROL PRODUCTS!
United Static Control Products
P.O.B. 19252, 4878 Lake View Circle
Colorado City, CO 81019
United States of America
Phone: 719 676 3928 Fax: 719 676 3929
24/7 Tech Support 719 676 3928 (option 8)
Major Credit Cards Accepted
ESD Flooring, Mats, Chemicals, ESD Ionizers, and Expertise
United SCP Tames the Static Beast BEFORE it Takes Another Byte
© 1996 - 2013 All rights Reserved
This page last updated on
05/15/2013