.
ElectraFlow®
ESD Ionizers, ESD Ionization
Rocket Science? Hardly. "Modern" Ionizers were invented in the 40's. Negative ion ionizers were In use by the 50's (mostly for health) and balanced ion generators became popular with the already maturing ESD market (mostly Military munitions applications) in the early 60'S. Now? ESD Ionizers are used in many high tech manufacturing programs to control ESD (Electro Static Discharge) in the work environment. Do they Still work the same? Pretty much! ESD ionizers neutralize a static charge via balancing the ions between the molecules in the gasses of the surrounding air. Esd Ionizers are typically used to control static on isolated conductors that can't be grounded and insulative objects (like standard plastics). ESD Ionizers are perfect for removing contaminant attraction caused by static as well as neutralizing static charges from wide, focused or hard to reach areas. Ionization is ideal when working with delicate electronic products (either on benches OR on electronics assembly lines) or large more robust assemblies. Whether for electronic assembly or our high powered Ionizers for the printing, packaging and injection molding industries.
United SCP Tames the Static Beast!
The Benefits of ESD Ionization? increased yield, cleaner assemblies, a reduction in latent esd damaged sensitive electronic components and increased production in all environments where static is an issue. At United we provide cost effective solutions to Tame the Static Beast before it takes another Byte from your productivity, efficiency and sanity! Units include transformers and are wired with standard US plugs. Typical emitter point life: 3 years! Need to replace the emitters? Only 10% of the cost of the units and IN Stock!!!. All of our ESD Ionizers are made of aluminum alloy casings with anti static coating. ISO manufactured to the same stringent specifications by the same quality manufacturers that the "high overhead big boys" use. Compare to Ion systems, Desco, 3-M and Simco. Save your esd program a substantial amount of money while providing outstanding, high quality ionization used by major companies world wide.
Our Most Popular ESD Ionizers for Static Control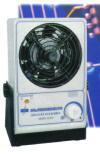 ElectraFlow SL-001 HEAVY DUTY ESD Bench top Ionizer (also works great for mounting under shelves or for overhead use) Air Filtration! Patented circular arrangement of 12 balanced tungsten emitters for ultimate ionic output and longevity! Anti-static powder coated aluminum alloy housing.
Full Size and High Output! TWICE the power supply of similar bench top ionizers and a full TWO YEAR Warranty! More POWERFUL than the similar yet PRICIER ionizer built by our competition!
$449.00 each and FREE SHIPPING!*
February SPECIAL
NOW ONLY $349.00 Each and FREE SHIPPING!*
---


ElectraFlow SL-002 Overhead Dual fan ESD ionizer with workbench light, built in emitter cleaners, variable speed fans. Powerful performance, an industry standard at the guaranteed best pricing in the Nation.
$698.95 each and FREE SHIPPING!*
NOW ONLY $598.95 Each and FREE SHIPPING!*
---


ElectraFlow SL-003 Fully adjustable Triple Fan overhead ESD ionizer with on demand workbench lights, built in emitter cleaners and self balancing (0V +/- 5 V) refined output. Very robust and reliable. Perfect for medium to large esd workstations.
Only $899.00 each and FREE SHIPPING!
NOW ONLY $714.95 Each and FREE SHIPPING!*
---


ElectraFlow SL-1104
FOUR Fan, massive 440 CFM balanced (0V +/-5V) output overhead ESD ionizer with built in emitter cleaners. THE most ions for your money. Very robust, outstanding reliability. Perfect for large esd work stations as well as packaging areas and more.
Our price: $760.00 each and FREE SHIPPING!*
---


ElectraFlow SL-010 One of THE most popular ESD bench top ionizers in the world! The SL-010 esd ionizer provides a wide, narrowly focused plane of ionized air to control static across a sizable area of an esd work surface. This powerful yet easily controllable ionized air stream is PERFECT for electronic assembly and removing the final traces of static from insulative objects and sub assemblies.
$808.00 each and FREE SHIPPING!*
---


The SL-028 HEATED esd bench top ionizer is a versatile unit that provides a wide plane of ionized air to control static electricity. This powerful yet easily controllable ionized air stream is PERFECT for electronic assembly and removing the final traces of static from insulative objects and sub assemblies. Excellent for other uses in manufacturing environments such as plastic sheet and vacuum forming operations. One of the most versatile ionizers in the industry! 3D air flow!

$619.99 each and FREE SHIPPING!*
---


ElectraFlow G 4000 Ionizing air gun, power supply and generous 6 foot airline / power supply cable. Light weight, powerful and robust. Industrial strength, easy to control, easy to maintain, hand held, works with clean compressed air. Perfect for eliminating dust AND static from sensitive parts yet powerful enough for larger assemblies, packaging, automotive paint and body work, assembly line operations and more.
Our Price: $499.85 ea and FREE SHIPPING!*
---


ElectraFlow SL-111D Precision clean room compliant stainless steel DC mini ionizer. The unit consist of a stainless steel DC miniature high output - high efficiency ionizer that mounts on a heavy duty stainless and composite stand. The angle and height of the ionizer is fully adjustable using a small Allen wrench.
The unit comes complete with a heavy duty 3 foot long cable that attaches the ionizer to the stainless steel power supply unit. The power supply unit contains a variable speed function and on off switch for the 2 inch fan located in the ionizer. Approximate size of the ionizer is 1 x 3.5 x 4.25. Designed for 120V use but available in a 220V model. Manufactured in a class 1000 clean room. Patented circular arrangement of 4 tungsten emitters. The unit is perfect for sophisticated static control environments. This ionizer is very well made and robust. It also features an adjustable airflow output from 10 to 100% and an adjustable +/- ionizer balance set screw mounted conveniently on the front of the transformer. Click Here for More Photo's
Price: $439.00 ea and FREE SHIPPING*!
---


The NEW SL-280 ElectraHawk hand held ionizer with power supply and foot pedal: The SL-280 delivers a highly refined static eliminating air stream with powerful blow off capabilities! Eliminates static laden dust and particulate! Outstanding controllability balance and mobility! From delicate components to hearty assemblies the ElectraHawk sl-280 has the looks, feel, and performance of a finely crafted tool designed to last a lifetime! Suitable for class 100 Clean Rooms, light weight, durable, meets stringent class 100 clean room standards. INCLUDES foot operated power switch at NO additional Charge! Includes certificate of compliance, unparalleled blow off capabilities and replaceable 1 micron final air filter (normal life expectancy of filter 2 years).
Compare our SL-280 to the Simco® Top Gun™ Ionizing Air Gun (an Illinois Tool Works Company). The SL-280 is neither manufactured, distributed nor associated with said Companies. The SL-280 and the Simco Top Gun are the most popular ionizing air blowers in the World!
SL-280
Only $836.02 each and FREE SHIPPING!
NOW ONLY $674.99 Each and FREE SHIPPING!*