WHY United Static Control Products?
From anti-static mats for the Pentagon, to ESD Floors for the US Navy in Saudi. Intel, Google, NASA, Microsoft, Ingram, Quantum, Tyco, HP, Boeing, Lockheed, Northrop, Flextronics, Dell and Thousands of American Contract Manufacturers select United SCP for one reason and one reason Only! To Tame the Static Beast Before it Takes another Byte!
Value, Quality, Reliability
Save your esd program a substantial amount of money and get the high quality, service and performance you deserve from a reliable supplier with outstanding products and a proven track record.
Award Winning Tech Support
Whether your ESD program is just starting out or you're a client that has been around the block OUR team of experts is here to help. Questions on the new 2016 standards? Give us a call. How do I eliminate static from my car seats? Give us a jingle. ESD Flooring Certifications? Call us! Enjoy free 24/7 tech support for all flooring products.
About United Static Control Products
United specializes in ESD Flooring (supply and installation), essential static control products and static control expertise. Our sales offices are located in Colorado Springs, CO and Florida. Our warehouse and manufacturing more

ESD Protection for Mission Critical Environments.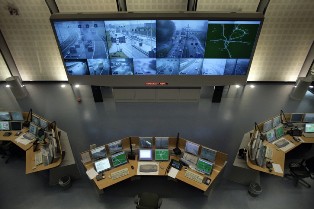 3 Coats of ElectraGuard ESD Epoxy Paint Over Standard Vinyl Tiles. Meets ANSI ESD S20.20-2014!
Sealed with 2 Coats of ElectraThane and one top coat of ElectraGlaze ESD Floor Finish (for ultimate gloss and easy cleaning).
Popular Reading:

How to make a standard VCT Tile floor Compliant to the latest ANSI ESD Standards! No need to tear out old tiles! Passes ANSI ESD S20.20-2007, 97.1 AND ANSI ESD S20.20-2014. Permanent conductivity that rivals thick set esd epoxy and esd tiles at a fraction of the cost. Environmentally Friendly - save and reuse the old VCT flooring.

ElectraFloor Titanium Series ESD Flooring Titanium like wear resistance, unrivaled electrical properties. The powerful new element in ESD vinyl floors for static control. Now available in 2' x 2' esd tiles or 65' x 4' sheet goods (for seamless installations).

Mission Critical ESD Chair Mats for use over carpeting OR hard surfaces (like concrete and existing tiles). Easily comply with THE most stringent new standards - the portable esd floor for workstations!

Concrete repair for esd flooring Concrete repair prior to installation of ESD Floor paint. Ultimate esthetics, seam free ESD flooring for easy floor maintenance and smooth rolling loads. A perfect system for use with many types of esd tiles, sheet goods and carpeting.

See the new FM-1126 Static Field Meter in action and learn how an ESD Smock Shields esd sensitive electronics in this 2 minute video

Static control for Sophisticated Audio, DJ Equipment and Gaming Consoles
CONTACT UNITED STATIC CONTROL PRODUCTS!
We are believers in your right to privacy and security. We don't collect your data, leave cookies on your computer or track you on ANY of this site's 350 plus pages. Enjoy your experience with us and thank you for visiting United SCP.
ESD Flooring, ESD Matting, ESD flooring Installations and Certifications, Proprietary ESD Products, ESD Ionizers and expertise in how it all fits together!
United SCP Tames the Static Beast BEFORE it Takes Another Byte ®
© 1996 - 2016 All rights Reserved
This page last updated on
04/19/2016