.
ES-7000 Ergo-Stat ESD Comfort Grounders
Safely Eliminates User Induced Static Electricity
THE most comfortable ESD footwear on the planet!
Ergo-Stat ESD control comfort grounders dramatically reduce the pain and fatigue experienced when standing or walking on hard surfaces. United guarantees the Web's best pricing on these outstanding grounders. Should you find them at a lower price simply let us know! We will beat it by 2% and send you a free static control gift with your order.
Once you try them you'll NEVER want to take them off!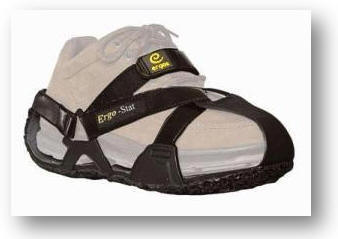 ESD heel straps provide unparalleled static decay. ERGOSTAT heel grounders takes this spectacular antistatic performance and combines it with THE most comfortable ergonomic performance in the Industry! Ergo-Stat outperforms esd shoes hands down.
Once you try them you'll never want to take them off! Forget about expensive, uncomfortable esd shoes (that often don't perform without a break in period) and pricey, hard to keep clean anti fatigue esd matting for your esd floor. ErgoStat footwear dissipates electrostatic potential to your esd flooring (or floor matting) immediately, cost about 50% less than decent esd shoes, are comfortable and conductive from day one and can easily be cleaned. Lets face it; Comfortable technicians are productive technicians! Ergo-Stat ESD grounders provide great, non spongy support (for stability), excellent slip resistance (for safety) and outstanding electrical performance easily compliant with 2020-2007 ANSI/ESD SP9.2

Outstanding ergonomic comfort and support!

More cost effective than ESD shoes or ergonomic matting!

Safety oriented, excellent slip resistance properties!

Permanent conductivity, ultimate static control!

Easy to keep clean and long lasting!

Meets THE most stringent new ANSI and ESD standards!
ErgoStat ES-7000 sole grounders use the highest quality materials for performance, durability and permanent conductivity. Fitted with a rugged 1 megohm resistor with 18" conductive ribbon, ErgoStat ESD shoe covers provides stationary and mobile workers with safe static discharge to a grounded esd flooring substrate. ESD protection using Ergo-Stat™ on both feet provides consistent grounding through the entire walking motion. Like a mobile anti­fatigue mat, Ergo-Stat ESD control shoe covers dramatically reduces pain and fatigue experienced when standing or walking on hard surfaces. Ergo-Stat ESD footwear straps onto almost any type of footwear, including safety shoes, and is fully adjustable and easily cleaned. Available in 5 sizes and two colors, black and clean room white. Ergo's are PERFECT for anyone standing or walking for extended periods of time on hard, smooth esd flooring surfaces or esd matting. Useful for ANY area where expensive anti-fatigue matting is impractical due to size or moving equipment AND Ergo's are much less expensive than esd shoes! Ergo's are suitable for: manufacturing, clean room, pharmaceutical, defense, munitions, medical, and quality control personnel.
Part Number: ES-7000 (followed by size).
Cost: $55.99 per pair
Click Here for Specification Sheet
Associated Products

ESD Hand Lotion: Environmental conditions reduce the static conductivity of your skin. Insure successful hand to heel strap or wrist strap electrical continuity. Wrist straps pass with ease, heel straps no longer fail! Keep those hands baby soft and baby conductive (note: no babies were harmed in our testing)! RoHS and clean room compliant. Paraben free, no colorants nor perfumes. $5.22 each or a case for 24 for just $124.99


ESD Heel Strap Tester: Economical, easy to use and easy to comprehend. Now just $249 each with 3 years worth of free recalibrations.

Contact UNITED Static Control Products

This site is protected by copyright and trademark laws under US and International law.

United Static Control Products Incorporated. © 1993-2016 All rights Reserved

This page reviewed for accuracy and last Updated on 06/13/2017