SELECT ANOTHER TYPE OF ESD MATTING
ESD CLEAN ROOM BENCH MAT FOR STATIC CONTROL
Ultimat CR White ESD Rubber
Strict Clean Room Compliance!
Does not contain carbon for ultimate cleanliness!
Heat resistant, non humidity dependant conductivity.
Outstanding electrical properties for ultimate static control!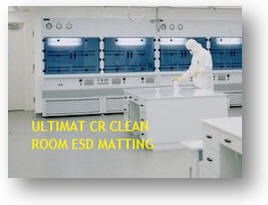 Ultimat is a new technology static dissipative industrial grade elastomeric designed for use on tables and other workbench surfaces. Its electrical properties are volume dissipative unlike many of the surface dissipative properties of the competition. This material was developed to conform to the new Class Zero and RoHS requirements. Ultimat CR White is chemically cross-linked throughout the entire thickness of the material providing permanent volume esd conductivity in combination with polymers that will not exudate nor outgas and contaminate in clean rooms and other sensitive environments. Ultimat CR White is as durable as rigid laminates and as comfortable and appealing as the softer rubber tablemats. Not recommended for use with continuous esd mat monitors.
This material meets both the US EOS 20/20 and European IEC 613450-5-1 specifications and therefore has outstanding charge dissipation, rapid charge decay, no charge suppression and outstanding low tribogeneration properties. The material will withstand solvents, soldering iron deformation, not curl, and have excellent abrasion resistance. The embossed surface will reduce light glare, increase part slip resistance, and facilitate cleaning. since the material is free from halogens, lead, arsenic, barium, heavy metals, phthalate plasticizers, vinyl monomer, asbestos, formaldehyde, antimony, chromium, cadmium, and other dangerous volatiles it may be used in environments where out gassing and contamination is of concern. It is RoHS compliant. A full set of test results for out gassing and compatibility is available from Galbraith Labs, K+S Labs, and Balasz Test Labs.
Properties:
Embossed Finish

Reversible - Both sides are white

.070-.080 inch (1.8mm) thickness

.05 sec decay time

107 – 108 ohm, ohm-cm, RTG, RTT, Vol R

Available in white

Widths: 24 and 30 inches

Lengths: 40 feet

Durable surface

Low abrasion

No vinyl monomers or DOP

UV Additives
Benefits:
No glare, easy cleaning, no part sticking

Durability, non curling, lays flat

Rapid, safe static drain

Meets all electrical specifications-all humidity's

Aesthetically appealing

Fits all benches. Other widths available

Easy to cut and ship to weight limitations

Will withstand temperature, solder, flux, and harsh chemicals

Ideal for clean rooms and other controlled areas

Durability

Environmental and personnel safety and conformance

Color Stability
Precut Mats
Roll Material
CM-2436 - 24in x 36in Mat
$55.99

CM-2448 - 24in x 48in Mat
$73.99

CM-2460 - 24in x 60in Mat
$91.99

CR-2440 - 40ft x 24in Roll
$578.99.00 US

CR-3040 - 40ft x 30in Roll
$693.99 Special!

Note: The above products are not included in our free shipping program.