.
ULTIMA EXTREME SERVICE ESD FLOOR MAT
Static Dissipative Tri-Layer Floor Mat. Up to 6' Widths! Custom Sizes and Full Rolls.
FREE SHIPPING on this ESD Matting going to our Clients in the Continental U.S.A. AND Canada! Details Apply

Approved for use around energized equipment

Meets FAA STD 019e

Meets ATIS-0600321.2010 & Motorola R56

Meets ANSI ESD S20.20-2014, 97.2

Tri-Layer ADVANCED permanent conductivity.

For use on hard surfaces and short pile carpet.

Up to SIX Foot Widths and 50' Long.

Tougher than nails, Indestructible.

Handles chair caster traffic.
Tri-Layer Conductivity for advanced PERMANENT static control protection that is not dependent on humidity for conductivity. Ultima provides an electrical resistance in the STATIC DISSIPATIVE Range for a CONTROLLED static decay rate that is somewhat slower than our static conductive floor mats. Ultima is a suitable alternative to expensive anti-static (static dissipative) esd flooring. It's tough, resilient, permanently conductive and features a non slip texture that also reduces tribocharging.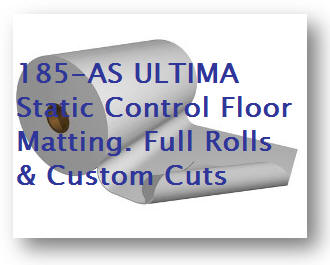 Ultima Static Dissipative floor matting is an extremely tough, robust super vinyl manufactured using our proprietary 3 layer construction technique. The wear resistant top surface features a lightly textured slip resistant antistatic material bonded to a full surface conductive inner layer for equipotential grounding.
Click here to view anti slip texture and color.
This inner layer of conductivity eliminates electrical dead spots and provides a package resistance that is one of the most reliable in the industry. This layer is further bonded to a static dissipative bottom surface that provides mechanical strength and longevity. photo
THE RESULTS ARE IN: Ultima's low tribocharging and efficient charge decay make it a perfect choice for any area requiring a static dissipative floor matting AND it's outstanding indestructible mechanical properties allow it to be used on thin pile carpeting as well as hard surface flooring (like concrete and VCT). An Ultima anti static mat or runner can be a perfect product for use in communications, file server rooms, sophisticated 911 centers, medical manufacturing, command center electronics, electronic manufacturing and more. Ultima - Tames the Static Beast BEFORE it Takes Another Byte!
Notes: Due to the non porous homogenous top surface of 185-AS we don't recommend this material for use with drag chains. 185-AS is static dissipative. Should an esd chair mat of higher conductivity be required for use in an EPA (Electrostatic Protected Area) consider one of our Titanium Mission Critical ESD Chair Mats.
PHYSICAL PROPERTIES:
THICKNESS: 3/16 of an inch
COLORS: Gray
BEVEL: Not available - straight cut
AVAILABILITY: 3', 4', 5' and 6 foot widths. Up to 50 feet long. Full Rolls and Custom Cuts
ELECTRICAL PROPERTIES:
PTP PER ESD 7.1: >1.0E06 <1.0E09
RTG PER ESD 7.1: >1.0E06 <1.0E09
TYPICAL RTG @ 30%rH, 100VDC, 71 Deg F: 5.32E07
Heavy Duty 3 Layer Vinyl Static Dissipative ESD Floor Mat
Product # 185-AS
ROLL PRICING:

3' x 50'

$1,372.50

Delivered Pricing! Continental USA and Canada!*

Click here to purchase, use the drop down to select your size

4' x 50'

$1,830.00

6' x 50'

$2,745.00

Pre Cut Pricing: Note - We have many more precut sizes available on our cart.

3' x 4'

$120.00

Delivered Pricing! Continental USA and Canada!* Many more lengths available! Need another length not shown? Simply call us for pricing and to place your order.

Click here to purchase, use the drop down to select your size

3' x 6'

$180.00

3' x 10'

$300.00

3' x 15'

$450.00

4' x 4'

$160.00

4' x 6'

$240.00

4' x 8'

$320.00

4' x 10'

$400.00

5' x 6'

$360.00

5' x 8'

$480.00

5' x 10'

$600.00

6' x 6'

$360.00

6' x 8'

$480.00

6' x 9'

$540.00

6' x 10'

$600.00

6' x 15'

$900.00
Old School Calculator for sales
associates
*Terms and Conditions of Free Shipping Program
Contact United Static Control Products
ESD Flooring, Mats, Chemicals, ESD Ionizers, and Expertise
United SCP Tames the Static Beast BEFORE it Takes Another Byte ®
© All rights Reserved
ASSOCIATED Items
To order 185-AS Ultima along with the following accessories using our new shopping cart please click here
---

Beveled hooded floor mat ground cord includes the universal snap kit shown below. Fully compliant to the latest standards and installs with just a screwdriver. On sale! Now just $5.20 each!
---


Universal mat snap kit - 3/8" - designed to fit nearly every thickness of esd bench top and floor mat. Tough, robust and fully compliant. Available in Bag O' Tens Kits, only $11.00
---


Push and Cinch Male - 3/8" - The ultimate in a secure ground connection. Pierces all layers for ultimate conductivity. Excellent for use with constant monitors, robust and fully compliant. Bag O' Tens, $6.20 per bag
---


Push and Cinch Female - 3/8" - The ultimate in a secure ground connection. Pierces all layers for ultimate conductivity. Excellent for use with constant monitors, robust and fully compliant. Bag O' Tens, $6.20 per bag
---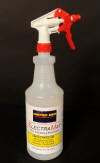 ESD Mat Cleaner - Leaves Zero Insulative residues! Keeps table top and floor matting supple and helps rejuvenate the ESD mat's conductivity. Environmentally friendly, economical and Made in the USA! Available in quarts, cases, gallons and 5's! 1 quart WITH trigger sprayer, $8.22
---


The Static Solutions RT-1000 DIGITAL electrical resistance tester. Testing the electrical. resistance of esd control items is critical for compliance of your ESD program. Test ESD floor mats, table tops, chairs, esd smocks and more. United provides the guaranteed best pricing on this device. Now just $1,118.75
---