VPI ESD FLOOR TILES
VPI ESD Floor Tile Maintenance
Page 1 of 2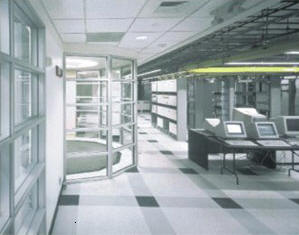 PRODUCT OVERVIEW: VPI ESD flooring features a high rating for dimensional stability and compressive strength and is supplied in the static conductive range of <1.0E06 and in the static dissipative range of >1.0E06 and <1.0E09 for fast yet thorough charge decay.
VPI's outstanding micro-finish provides a clean high tech appearance while it's superior total composition (devoid of cheap fillers and clay binders) provides unparalleled wear resistance with a > 20 year life expectancy and a Lifetime Warranty on Electrical Conductivity. VPI ESD Tile, THE choice for controlling esd in clean rooms, electronic manufacturing, computer rooms, repair facilities or anywhere static control is a requirement.
OVERVIEW: All United Static Control ESD Vinyl Tiles require cleaning and maintenance to maintain the outstanding original appearance. The frequency with which they must be cleaned is dependent on the amount of traffic, the cleanliness of the facility and the type of manufacturing that the tiles will encounter on a daily basis. The following general guidelines will cover the majority of applications. Frequency of the procedures may be modified to suit the environmental conditions your flooring may encounter.

GENERAL: Whenever possible use walk off mats at entrances and doorways to help reduce the amount of abrasives from dirt and grit. Wire clippings, metal shavings, nuts, bolts, sanding abrasive etc can get ground into all types of flooring by chair casters and may cause deep scratches. Should this type of traffic be an ongoing issue United SCP recommends the use of Titanium 40220 HSB conductive chair mats to protect the flooring. Metal chair casters and wheels are not recommended for use with ESD flooring. Nylon or soft rubber chair casters and wheels are acceptable but must be kept clean and free of embedded detritus.

INITIAL MOVE IN: Protect your esd flooring investment during the initial loading phase. Cover the newly installed esd flooring with masonite or thick cardboard sheets prior to rolling over the new substrate with heavily loaded forklifts, man lifts etc. Remove nuts, bolts, rocks, nails etc from the wheels of heavy equipment prior to rolling over the protective overlayments. Brown paper may be used to protect the floor from dirt brought in by foot traffic during the initial move in phase.
INITIAL MAINTENANCE: Initial maintenance should not be performed for a minimum of 72 hours after the installation is complete to allow the adhesive to fully cure. Careful installation will avoid the transfer of conductive adhesive to the tops of the tiles. Should your installation have adhesive that has oozed between the seams to the tops of the tiles this may be removed with a soft cloth or sponge dipped in a mixture of hot water and ElectraClean diluted to a ratio of 8 ounces of ElectraClean to a gallon of water. Use liquids sparingly and do not over apply. Insure that the area is dry once the clean up is completed.

DAILY: Sweep the esd tiles using a soft bristle broom followed by a dry dust mopping. Initially use only new brooms and dust mops. Isolate these tools and use them ONLY on your esd flooring. Do not allow them to contact oils, grease nor other contaminants that may be transferred to the esd flooring and hinder it's outstanding conductivity.

EVERY WEEK OR TWO:

Damp Mop the flooring with

ElectraClean

to remove abrasives. Sweep and dust mop prior to washing to remove loose dirt and soil. For use in weekly damp mopping, use a dilute solution of 8-10 ounces of

ElectraClean

per gallon of warm water. Using a clean high quality mop and a mop bucket with a ringer, dip the mop into the bucket and ring out excess. Mop the floor lightly, rinse mop in fresh solution repeatedly. Exchange dirty damp mopping solution with clean solution as needed. ElectraClean may also be used in auto scrubber applications. After application allow the floor to dry thoroughly. Do not rinse. For heavier soil conditions. Dilute 12 -16 ounces of cleaner per gallon of warm water and use as a mopping solution. NOTE: Never use plain water to damp mop an esd floor