ELECTRATHERM
PN 165 AS
ESD Bench Mat Material MEETS ANSI ESD S20.20-2021
Dual Layer Conductivity, Heat Resistant, Permanently Conductive, RoHS 3 Compliant. Designed for Static Control Applications in Mission Critical Assembly!
PN 165 AS ESD TABLE TOP MATTING SPECIFICATIONS
OVERVIEW: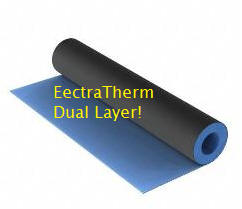 ElectraTherm ESD table top matting utilizes a proprietary 2 layer construction of a static dissipative top layer bonded to an electrically CONDUCTIVE back layer. This unique configuration provides years worth of effective, reliable, fast yet COMPLIANT removal of static electricity from the technician. This material is ideal for use with or without esd constant monitors and further meets the stringent recommendations for the Military and ANSI ESD S20.20. It's RoHS (lead free) compliant, chemical resistant and features permanent non humidity dependent electrical conductivity.

Superior PERMANENT static control properties.


NOT reliant on humidity for conductivity.


Perfect for use with or without constant monitors.


Available in Dove Gray or Sky Blue.


Static Dissipative top surface meets new S 20.20!


Conductive bottom layer >2.5E04, <1.0E06


Durable yet flexible rubber lays flat and won't curl!


Heat resistant and RoHS (lead free) compliant.


Nonporous, easy to keep clean!


Thickness: .060
EXTENDED SPECIFICATIONS
ELECTRICAL PERFORMANCE

Top Layer Resistivity, Point to Point (per ESD S4.1 @ 12%rH)

>1.0E06 <1.0E09 (static dissipative)

Top Layer Electrical Resistance to Ground (per ESD S4.1 @ 12%rH)

>1.0E06 <1.0E09 (static dissipative)

Bottom Layer Electrical Resistance to Ground (per ESD S4.1 @12%rH))

>1.0E03 < 1.0E06 (static conductive)

Decay Time: 1000 to < 50 V per FTM 101 C method 4046, EIA 541, Appendix F, EN 100015/DIN 51953

< .2 sec

Meets ANSI/ESD S20.20-2021 Work Surface Product Qualification per STM4.1
<1.0E09
Meets ANSI/ESD S20.20-2021 Work Surface Product Compliance Verification per TR-53-18
<1.0E09

PHYSICAL ATTRIBUTES

Hardness per Shore A, ASTM D-2240

85 +/- 5

Abrasive Wear, Taber H-18 wheel, 500 gram weight to dissipative wear layer penetration (end point)

<.5 grams loss

Temperature Resistance without deformity or degradation.

heat resistant to soldering operations and hot flux.

Surface Texture.

Semi smooth, non glare, easy to keep clean, essentially non porous.

Thickness

.060 +/- .010 (inch)

UV Stability

Excellent
AVAILABLE SIZES
2' x 50', 30" x 50', 3' x 50', 4' x 50' also available in precuts
PN 165 AS ESD BENCH TOP MATTING, DUAL LAYER, RUBBER

United SCP

Colorado City, CO 81019

Telephone: 719 676 3928

Document Number:

SRC10110C

DATE: 2/28/21
*