ELECTRAGLAZE
ESD Floor Finish / Static Control Wax
Turns standard VCT into an Anti Static Floor!
Protects and Enhances the Performance of ESD Flooring!
Special of the Month!

1 gallon $45.99 $39.99 Buy Online!

1 case (4 gal) $183.96 $109.99 Buy Online!

5 gallon pail only $226.99 $198.99! Buy Online!
ElectraGlaze and our refined system of static control floor care products = Outstanding Anti Static Performance and Longevity. ElectraGlaze Shine and Scuff removal? Unparalleled! If you're like most of our clients you've grown weary of seeing your antistatic performance degrade to the point that you're hoping for a rainy day to help diminish the static!
NO MORE WISHFUL THINKING OR PRAYING FOR RAIN!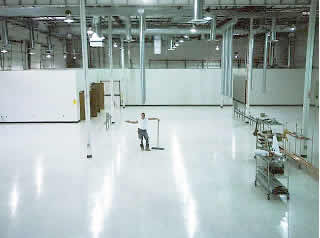 Brilliant shine!

Long life and easy application!

UL approved slip resistance!

Makes scuff marks EASY to remove!

Lowers Tribo Charging for less static!

Dramatically reduces maintenance!

Low odor, NO VOC's, biodegradable and environmentally friendly. PERFECT for esd floors and non conductive hard surface flooring!
ElectraGlaze is a unique, wear resistant, static control wax (floor finish) for use in ESD sensitive environments. Unlike typical static control wax, our advanced formulation features a proprietary, aqueous co-polymer blend of 22 active ingredients. This exclusive blend provides dramatically superior chemical, water and slip resistance. ElectraGlaze provides outstanding protection against scuff marks and abrasion in concert with outstanding anti static properties.
APPLICATION: ESD floor finish is not applied "just like" standard floor finish, take the time to understand the difference. It will save you time in the long run. This material is for use on ESD vinyl, epoxy and standard hard surface flooring. If the floor has been previously coated with a wax or "factory applied finish" (as is the case with standard VCT, OR if floor is extremely dirty, remove contaminants with emulsifying floor stripper such as ElectraStrip Floor Stripping Liquid. Power Scrub with pad, double rinse with clean water. Allow to dry thoroughly. Using a clean Rayon finish mop or wax applicator, apply thin even coats of ElectraGlaze allowing finish to dry 2 to 4 hours between coats. Two coats are recommended for optimum performance on ESD Floors, up to 5 coats are recommended for non esd floors. Buffing is not required between coats unless high luster is desired. Note: Avoid application during high humidity conditions.
MAINTENANCE: Dry mop floors with an untreated mop daily to remove loose dirt, sand and other abrasives. As needed: damp mop using ElectraClean ESD Floor cleaner ONLY diluted 10:1 to remove soils which can degrade the coatings conductive properties and gloss. Heavily soiled areas and scuff marks can be removed by spray buffing with ElectraShine. NOTE: Do not use plain water to damp mop your floor and do not apply diluted ElectraClean for 48 hours after initial application of ElectraGlaze. If a high shine is required high speed polish with finest pad possible using coarser pads only as needed. For best results consider the use of a propane powered high speed polishing machine.
ELECTRICAL PERFORMANCE:
ESD Flooring: When used as a protective / sacrificial coating on esd flooring no more than two thin coats are recommended. After application static conductive flooring will see a modest decrease in conductivity (approximately 1/2 decade). Static dissipative flooring will generally see a modest increase in conductivity (approximately 1/2 decade). High speed polishing with ElectraShine (dry burnishing is not recommended) further increases the conductivity of this product.
Non Conductive VCT (standard) flooring: When used on standard flooring such as VCT 4 to 5 coats are recommended, typical resistance to ground is >1.0E06 and <1.0E09 @ 40%rH when tested to ANSI ESD S7.1.
SPECIFICATIONS
Electrostatic Decay per EIA 541: <2.0 seconds
Slip Resistance per ASTM-D2047-5: > 0.5 min
% solids: >20%, ASTM D2834-34
pH: 7.25, ASTM E70-77
Gloss: 88 min, ASTM D1455-82
Recoatability: Excellent, ASTM D3153-78
Rubber Heel Marks: 1.0, ASTM D1436-82/
Powdering Resistance: Excellent, ASTM D2048-82
Solubility in water: 100%
Freeze Thaw Stability: Passes 3 cycles
Biodegradable: yes
VOC content 80 grams per liter*
Shelf Life: 18 Months
Flash Point: none
Coverage:1,500 to 2000 sf per gallon per coat.
Weight per 5 gallon container, 50 pounds.
Weight per case (4X1 gals) 40 Lbs
Weight per gallon, 10 pounds.
Storage: Store tightly in cool dry area. Do not mix other floor finishes or add left over product from previous applications.
Call for Large Volume Discounts and SAVINGS!
And visit us for these other fine ESD Floor maintenance products.