ElectraThane High Gloss Anti Static Sealer
For use with ElectraGuard AND standard Epoxy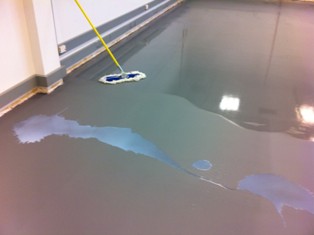 ElectraThane application using our lint free high speed sealer / wax applicator system. Click here for details on applicator system and to buy online.
ElectraThane static dissipative sealer features the addition of 316 micro-spherical stainless steel in concert with specialty antistatic urethanes to provide exceptional wear resistant protection and easy cleaning of the ElectraGuard ESD Epoxy flooring system. ElectraThane may also be used for elimination of nuisance static generation encountered with Garland, Sika, Stonehard and any other thick set standard epoxy flooring.
ElectraThane is designed as a semi sacrificial coating. ElectraThane also features excellent recoatability and (in the case of aggressive contamination) may be removed (with effort) and re-applied. ElectraThane is designed for mop on applications of 2 coats. Top coat with ElectraGlaze if high speed polishing is desirable.
APPLICATION & MAINTENANCE: ElectraThane is recommended for applications on Stone Hard and Garland standard Epoxy and fully cured ElectraGuard ESD Epoxy Floor Paint. Prior to application of ElectraThane thoroughly clean substrate if needed. Remove loose dirt and dust via sweeping and or vacuuming. If sweeping compounds are indicted use only oil free product. Remove profile imperfections (if any) such as bubbles and splatters from ElectraGuard via light scraping with a razorblade.
Greasy, oily or stained unsealed ElectraGuard generally requires cleaning by damp mopping using 8 ounces of ElectraClean mixed with a gallon of clean cool water. Change mop solution frequently and allow floor to dry thoroughly prior to application of ElectraThane. NOTE: ElectraThane is a clear sealer, should your unsealed substrate contain shoe prints etc these will show thru the coating.
Agitate ElectraThane sealant in container prior to use, pour into clean contaminant free bucket and mop on one thin even coat using non linting synthetic finish mops or apply with our high speed sealer / wax applicator system as is shown above. Allow coat to dry (depending on humidity and temperature) for 60 to 90 minutes before re-application of second coat. Two coats are recommended for optimal performance. NOTE: Do not over apply - apply THIN even coats. Over application of this product may significantly alter the electrical conductivity of esd flooring.

Effective recoating may be achieved in the following manner: Vacuum the floor to remove any loose dirt or dust. Wash the floor with ElectraClean to remove dirt and soil, allow to dry thoroughly. Apply thin even coats using a lint free finish mop. Allow ElectraThane to dry for approximately 90 minutes between coats and before resumption of foot traffic. Allow to dry 24 hours prior to resumption of heavy rolling loads
ROUTINE MAINTENANCE:
ElectraThane sealer is an extremely durable sealer. After application and curing of ElectraThane routine maintenance (to be expected with any floor) is all that is required to maintain the luster and conductivity of the finish. It's important to remove abrasives that can scratch and degrade the conductivity by dust mopping (usually on a daily basis). On an occasional basis (most of our clients prefer to do this once a week) wet mop the floor with a diluted mixture of ElectraClean and water and allow to dry. ElectraClean works great with power scrubbing equipment OR in hand mop applications. ElectraClean removes dirt and abrasives that dry mopping leaves behind and smells great too. Note: Do not wash your ElectraThane ESD Floor sealer for at least 48 hours after application and NEVER wash ElectraThane with plain water (always use ElectraClean diluted with water) for damp moping.
SAFETY INFORMATION:

| | |
| --- | --- |
| Health | 1 |
| Flammability | 0 |
| Reactivity | 0 |
| Personal Protection | B |
PHYSICAL SPECIFICATIONS:
Nonvolatile Solids

20 +

Total Active

26%

Static Dissipation

1.2 Second

pH

8.4 - 9.0

Gloss 60

80+ @ 3 coats

Color

Translucent white

Weight Per Gallon

9.8 pounds

Slip Resistance (ASTM)

0.65 Minimum

Stability

2 year minimum at room temperature

Freeze/Thaw Stability

3 cycles minimum

Drying Time

60-90 minutes

Chemical Resistance

Good

Gallon Coverage (Feet 2 )

1500 - 2000

Removability (Gardner)

75 cycles maximum

This material is not a hazardous mixture, as defined in 29 CFR 1919, 1200 and M.G.L. c. 111F. Safety glasses and gloves should be worn during application and handling. If ingested drink milk, water, or fruit juice and induce vomiting with oil of ipecac. In the event of eye contact flush area with water for 15 minutes. Contact a Physician. For detailed information consult MSDS sheet.
EXTENDED INFORMATION:
DATA SHEET (download as PDF file)
PRICING AND ORDERING INFORMATION:
1 gallon: PN E-Thane 1, $68.79 ea, weight 10 lbs
Case Lot (4 ea 1 gallon containers): $269.50, 40 lbs
5 Gallon Pail: $318.95, 50 lbs
P.O.B. 19252, 4878 Lake View Circle