.
ElectraStat 183 ESD Floor Mats
MEETS DOD 4145.26-M & S20.20-2014
DOD 4145.26-M is a tricky standard! ESD floor mats and flooring are notoriously too conductive or not conductive enough! A mat must come in below 1 Meg (in conjunction with the footwear) but ABOVE 80 K ohms when tested at 500 Volts! Many of our clients don't realize that when 500 volt meggers test below about 250 k ohms their instruments won't put out 500 volts! Have doubts? Check the voltage using a standard VOM with the electrodes on a piece of matting in the 80 k range. You'll see Voltage Collapse in action!
183 provides the perfect balance with enough resistance to maintain a true 500 volts with most meggers while still falling below 1 Meg PTP and RTG with room to spare for most footwear.*
With 183 ergonomic support meets SUPERB electrical decay rates for the ultimate static control. 183's Diamond Plate 1/8 inch thick top surface and ramped edges are safety oriented to protect employees from slips and tripping hazards while it's superb cushioning provides ergonomic comfort.
ElectraStat Type 183
OUTSTANDING COMFORT - SERIOUS STATIC CONTROL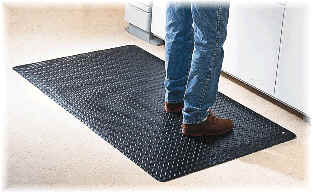 Click the following icons for large photos, use the back button on your browser to return to this page. Note these values are typical and may vary slightly. The material is warranted to come in below 1 Meg Ohm and above 80 K Ohms.
* Note: Footwear resistance varies! For DOD use Always pretest a small mat in conjunction with your footwear prior to ordering the full rolls.
PTP at 100 Volts for ANSI

Texture & Height

PTP at 500 Volts for DOD

293 K @ 516 Volts

RTG at 500 Volts for DOD

269 K @ 515 Volts
For hard surfaces and short pile carpet
Normally not for use with chairs and stools
Ramped for reduced tripping hazard
MEETS DOD 4145.26-M
MEETS ANSI/ESD S20.20-2014
Color: Black
Thickness: 9/16"
Surface Resistivity rating >80 K Ohms and <1 Meg Ohm
Diamond Plate Anti-Fatigue Floor Mat
Product # 183AS
ROLL PRICING: Note - these prices are without the 5% discount - this is calculated at checkout.

3' x 75'

$3,228.12

Delivered Pricing! Continental USA and Canada!*

Click here to purchase, use the drop down to select your size

4' x 74'

$4,304.16

Pre Cut Pricing: Note - these prices are without the 5% discount - this is calculated at checkout. We have many more precut sizes available on our cart.

2' x 3'

$115.28

Delivered Pricing! Continental USA and Canada!* Many more lengths available! The prices shown are all without the 5% discount (calculated at checkout). Need another length not shown? Simply call us for pricing and to place your order.

Click here to purchase, use the drop down to select your size

3' x 4'

$198.12

3' x 5'

$235.70

3' x 6'

$297.18

3' x 6'

$396.24

3' x 10'

$471.41

3' x 15'

$742.95

4' x 4'

$264.16

4' x 5'

$330.20

4' x 6'

$396.24

4' x 8'

$528.32

4' x 10'

$660.40

4' x 15'

$990.60
*Terms & Conditions of free shipping
Contact United Static Control Products
© 1996 - 2017 All rights Reserved
This page last Updated on
06/20/2017