.
Advanced ESD Wrist Strap / Heel Strap Testing
Flawless Paperless Compliance Tracking for your ESD Program!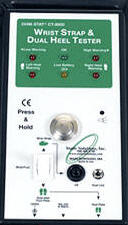 The CT-8900 Advanced:
NIST certified, S20.20-2007 compliant ESD Wrist strap / Heel strap Tester is the
ultimate
solution for eliminating the costly manpower and record keeping needed to comply with ESD audits. This simple to use yet powerful tool is microprocessor controlled and stores the results each time esd heel straps and wrist straps are tested.
When interfaced with a single computer or LAN (using it's RS232 plug) the unit can create analog output to log user information, record data, open doors or set off an alarm (signaling technician ground system failure). The SC 8900 will display and record the exact resistance values of each shoe and wrist strap individually in ohms for up to 5000 employees, multiple times daily and all with FLAWLESS ACCURACY.
With the microprocessor controlled circuitry the user can expect over 10,000 accurate tests with one 9 volt alkaline battery. The SC-8900 is ISO-9000 compliant and measures resistance from 500k to 100M ohms at predetermined limits (500k, 750k, 2M, 5M, 10M, 35M, 50M & 100M). Green LED for pass, red and buzzer for fail and yellow for low battery. Pass and fail limits can be adjusted for each area or even each employee. Power options include both 120 VAC or 9 volt battery.
Catch technician grounding problem before they become an issue!
Used at manufacturing companies in the USA and World Wide!
The SC/CT 8900
offers adjustable limits, exact resistivity readings, unique report generation groups, versatile networking options, an expandable employee log of 30,000 and is foolproof. The CT-8900 accepts mag stripe, barcode, Motorola, Idalou HID, Casi-Rusco ID cards as well as keyboard entry (optional reader devices required). Complete with user-friendly software, this unit is the most accurate and thorough combination-data logger available on the market.

Reduces costly manpower when tracking compliance.

Easy to use, no involved training, easy to add employees.

No need for each employee to "handwrite" results!

Saves Time, Test Both feet (esd heel straps) simultaneously.

Provides exact readout of ohms (with PC interface).

Monitors up to 30,000 people (multiple times) daily!

Stored results can be printed, even Emailed. Avoids Cheating!

Can notify the user when a yearly ESD re-certification is due.

Connects easily with LAN networks - data is safe if network fails.

Easy to generate employee failure exception reports.

Tracks time, employee attendance and vacation.

Logs are easily imported into spreadsheet and DB programs.

Software and employee information can be password protected.

Can prevent unauthorized entry without proper Certs or ID.

Large full color pass / fail message, easily viewed on monitor.

Compatible with Microsoft 95, 98, ME, WINNT, Windows 2000 and XP, Vista and more
.
Conforms to ANSI ESD S20.20-2007 resistivity limits but easily adjustable for European and all other standards. The SC-8900 individually and simultaneously tests, prints, stores, and e-mails each wrist strap and heel grounder resistivity with along with pass / fail information in less than 3 seconds. Note: most esd wrist and heel strap testers provide a mere pass or fail indication NOT exact values. These exact electrical values are helpful for determining if a wrist strap or heel strap is getting even close to a failure from dirt or contaminants.
PLEASE CALL FOR WEB SPECIALS AND QUANTITY DISCOUNTS!
CT-8900 - Tester, Footplate and Stand: $1,800.
CT-8950 - Tester, Barcode or Magstripe Reader, footplate and stand: $2,505.
CT-8960 - Tester, Footplate, Stand and HID Reader: $2,593.
CT-8970 - Tester, Footplate, Stand and Casi-Rusco Reader: $2,880.
CT-8925 - Tester with Footplate (no stand, for wall mount): $1,700.
CT-8920 - Tester with software only: $1,185.
HR-8000 - HID/CASI RUSSO Reader, power supply and stand: $795.
BC-8950 - Bar Code or Mag Stripe Reader: $435.
FP-8755 - Base Footplate, Heavy Duty: $165.
CT-1000 - 1000 Meg Upgrade for CT-8900 Tester: $280.